The annual Cho Lon consumer and industrial products exhibition opened on December 31 at the Phu Tho Stadium in Ho Chi Minh City's District 11.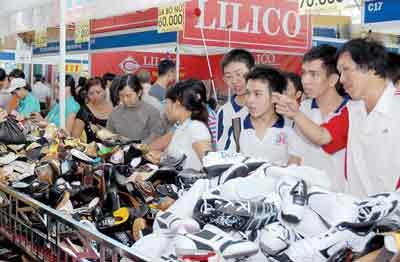 Visitors to the fair on the first day (Photo: SGGP)
It is being held amid the global economic woes, with enterprises having gone through severe difficulties to sustain production, Truong Tu Muoi, director of the Cho Lon Economic Development Center, said.
It would help encourage the Hoa (ethnic Chinese) community to continue to run their businesses and step up exports, widen the local market by introducing high-quality products to consumers, and act as a bridge between foreign and domestic enterprises through their relationship with the Chinese communities in countries like Singapore and Malaysia.
In the last five years the fair has become a popular annual event among the Chinese community.
A highlight of this year's fair is the free consultancy provided by the organizers for registering intellectual property rights and promoting trademarks, identifying fake products, and finding local business partners.
A job festival will be held on January 3 to help young Chinese-speaking people and students of Chinese at universities and language teaching centers find jobs.
Forty-three businesses have registered to recruit 5,000 employees for interpretation, business administration, marketing, and accounting.