There will be fruits galore in Suoi Tien Park as the annual Southern Fruit Festival returns to Ho Chi Minh City on June 1.
A parade of fruit kicked-off the event at the Suoi Tien Cultural Tourist Park, which included the participation of the head of the Vietnamese National Administration of Tourism, Nguyen Van Tuan, HCMC vice chairman Hua Ngoc Thuan, representatives of various agencies as well thousands of visitors.
Mr. Thuan said this year's festival involves farmers from 18 cities and provinces in the country, as well as some from the US and China.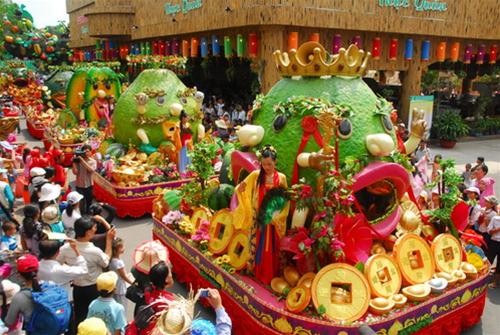 A parade of fruit kicked-off the event at the Suoi Tien Cultural Tourist Park ( Photo: Tuoi tre)
Featured prominently at the event was a floating market made of 70 boats, which sold various kinds specialty fruits from all over southern Vietnam.  There were Hoang Gia grapefruits from the Mekong delta province of Vinh Long, sweet mangoes Hoa Loc of some Mekong delta provinces, the Tan Hung pear guava, and seedless Barbados cherries and watermelons from the Go Cong District of the Mekong Delta province of Tien Giang. 
Prices at the festival are 20% to 40% below what one would pay at the markets and are one of event's most attractive features.
A fruit arrangement contest included nearly 100 artisans.  In addition, there were new dishes made from fruit, an ornamental exhibition, an exhibition of rocks shaped and colored like fruit and a freak show of giant fruits and bulbs that weigh up to 60 kilograms.
In addition, a competition was held on June 1 to select both the most delicious and the safest fruits. The contest among growers is to encourage new technology, new varieties, quality and high productivity.
The festival will wrap up on June 16.