Prime Minister Nguyen Tan Dung has asked Ho Chi Minh City to consider anti-flooding works to be a key and urgent task, in which local authorities should make more efforts to create basic and clear changes in the upcoming time.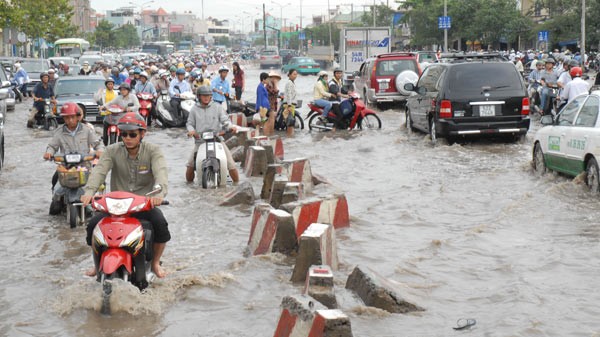 HCMC has many flooded spots after heavy rains and high tide (Photo: SGGP)
The requirement was given in a conclusion on the city anti-flooding plan issued by the PM office yesterday.
 
Implementation of the plan on water drainage and anti-flooding should, first of all, deal with flooding in inner districts of the city, the conclusion said.
Besides synchronously carrying out measures to tackle flooding, HCMC should tighten management and speed up construction of reservoirs to accumulate water and reduce flooding, continue dredging canals to better water drainage and shorten flooded time after rains and limit underground water exploitation to prevent depression.
The conclusion quoting the PM said that relevant ministries, agencies and the HCMC People's Committee should find funds for projects under the plan, including capital mobilization from the city budget, official development assistance, public private partnership and other legal sources.
The PM approved the city's schedule to implement the plan in two phases, 2016-2020 and 2021-2025, the first phase will work in center areas.
He agreed with supplementation of Phu Dinh and Cay Kho sewer system into the plan to better flooding prevention in the southern part of the city.
 
The Ministry of Agriculture an Rural Development has been asked to coordinate with people's committees in HCMC and the neighboring province of Long An in the Mekong Delta to study measures to counteract flooding in the rest area of the city.
According to the PM's conclusion, HCMC has invested tens of thousands of billions of dong in dredging and upgrading 60 kilometers of canals and 2,600 kilometers of sewer pipes; fortifying embankments; and building tide control sluice gate Nhieu Loc-Thi Nghe, some wastewater treatment plants and reservoirs.
These efforts have helped reduce tide and heavy-rain caused flooding at 62 out of 95 spots in the city.
However, the plan's implementation has worked slowly to solve flooding because of many difficulties including capital shortage and site clearance.
So far, the city has completed 43 percent and 12 percent of requirements to improve drainage and canal systems and built one out of 10 tide control sluice gates.
Meantime, climate change and sea level rise has worsened flooding after heavy rains and high tides, requiring the city to take more actions to cope with flooding synchronously and timely.