The owner of The Montana Apartment building in Ho Chi Minh City's Tan Phu District has reportedly been unreachable since construction on the project was halted in February, worrying apartment buyers who have paid money in advance.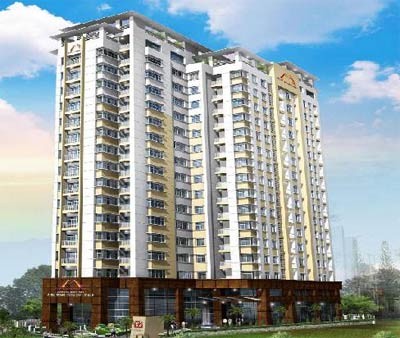 An artist's impression of the Montana Apartment  
Phan Tan Phat, general director of Ngan Thanh Joint Stock Co., the project's owner, has failed to respond to all correspondence from anxious apartment buyers.
 
The building, located at 360 Thoai Ngoc Hau Street, was first advertised in late 2009 with an artist's rendering of beautiful, luxurious condos.
 
According to the ad, the 16-storey Montana Apartment includes 89 apartment units with a total space of 15,600 square meters.
 
Each unit measures from 75 to 127 square meters, and is priced at VND17-20 million (US$895-1,053) per square meter.
 
The ad also said that local construction investment joint stock company Lilama SHB is the project's contractor and co-investor.
 
One buyer said that after viewing the model and land used for constructing the building in September 2009, he signed a purchase contract and put down a deposit of VND1 billion (US$52,600), or 50 percent of the apartment value.
 
According to the contract, the project's owner pledged to deliver the condo in October 2010.
 
But at the end of February when the buyer went to pay the third installment of the deposit, he received a notice from the owner saying the project had temporarily been suspended.
 
After contacting the owner, he was promised through letters and phone text messages that he would receive his deposit back.
 
Buyers said that while Mr. Phat signed all purchase documents, they had never actually met him. They said they tried to call the project owner's phone number listed on the contracts, but there was no signal.
 
Another buyer, who paid 40 percent of the apartment value, said he has been looking for Mr. Phat at Ngan Thanh Co. headquarters and at Mr. Phat's house but has never seen him.
 
To date, the only person who has come forward to respond to buyers is Lam Thi Kim Thanh, Mr. Phat's mother. She has apologized and promised to pay buyers their deposit back.
 
Lilama SHB General Director Le Tan Hoa told Sai Gon Giai Phong April 13 that his company is just a contractor of the project, not an investor, and now a victim too.
 
Mr. Hoa said, "After undertaking construction of the building, we spent VND25 billion (US$1.3 million) constructing the building's foundation. The construction of the foundation was completed last October but the project's owner didn't make the payment. Therefore, construction has ceased until now.
 
"We have now had to hire guards to watch over the construction site and we don't know when we can get back the money."
 
Mr. Hoa said he has also been unable to contact Mr. Phat, and was only once contacted by him after February to set up an appointment at a later date.