Ho Chi Minh City's consumer price index (CPI) in April rose slightly 0.08 per cent against last month, a 20-month low, bringing the year-on-year rate to 9.68 per cent, according to the city's Statistics Office.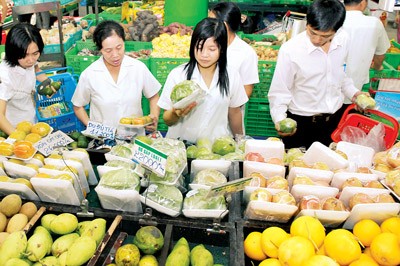 For illustration only
This month, six out of 11 groups of commodities saw the price increase including restaurants and catering services increased 12.58 per cent; housing and electricity services, fuels and construction materials increased 11.26 per cent and goods and other services increased 9.99 per cent.
Post and telecommunications decreased by 3.04 per cent.
Meanwhile, Hanoi's CPI eased 0.03 per cent from last month's figure despite it increased 9.52 per cent over the same period last year, said the Hanoi Statistics Office.
Sharp declines in food prices dragged CPI for Hanoi in April down for the first time in 24 months, said the office.
In April, eight groups of commodities saw marginal increases, while three groups declined: restaurants and catering services down 0.65 per cent, post and telecommunications 0.04 per cent, and housing, electricity, water, fuel and building materials 0.64 per cent.
According to the General Statistics Office, Vietnam's CPI is estimated to increase 0.06 per cent in April.
Related article:
HCMC, Hanoi see CPI slow down in March