A live television program connecting Hanoi and Ho Chi Minh of Vietnam, Tanzania (South Africa), Peru (South America), South of Korea and New York city of the U.S named "Countdown to 2017"  coincided at 9:45- 12 pm on December 31.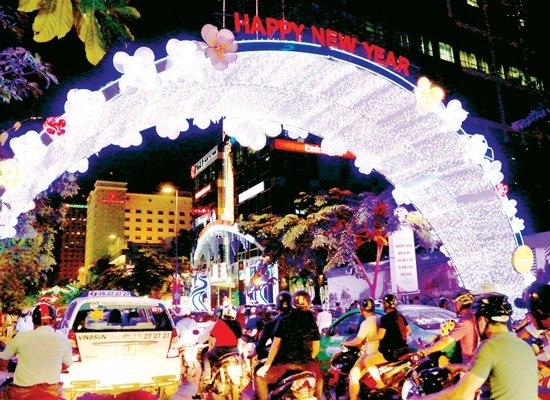 Main streets in Ho Chi Minh City are decorated with colored lights.
Famous Vietnamese singers, artists, music groups and dancers performed at the count-down party.
Specially, two outstanding individuals achieved remarkable results during a year took part in the event including shooter Hoang Xuan Vinh who won gold medal at Rio Olympiad Games 2016 and scientist Phan Minh Liem that discovered gene's role in ovary cancer risk.
Last night, many art performances welcoming 2017 new year also took place at Gia Dinh Park, HCMC Youth Culture House, Dam Sen and Suoi Tien Tourist Sites and industrial parks.
On the same day, the Ho Chi Minh City Department of Culture, Sports and Tourism Department coordinated with the Cycling and Motor Sport Federation held a bicycle race, with the participation of nearly 300 racers.  It was considered as one of culture & sports activities welcoming new year 2017.
Countdown parties welcoming New Year 2017 was also held in Da Nang city, Hoi An and Thua Thien- Hue.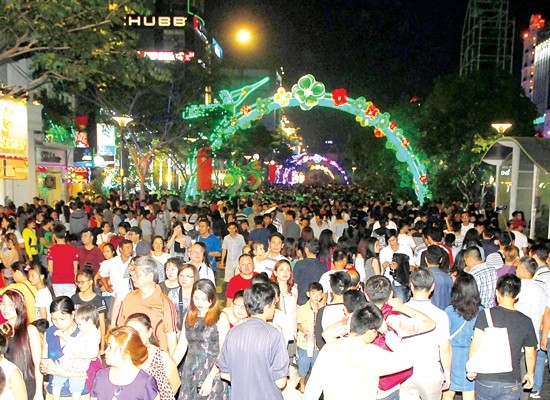 Thousands of people gathered to the walking street