After 30 years as an established photographer, artist Dao Hoa Nu has decided to impart her knowledge to the younger generation by launching a Photography Club cum Training Centre on Nam Quoc Cang Street in Ho Chi Minh City.
Dao Hoa Nu is presently a member of the Vietnam Association for Photographic Artists, a member of the International Federation of Photographic Art (Federation Internationale De l'Art Photographique - FIAP) and President of the "HAI AU Photography Club".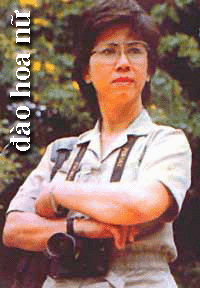 Artist Dao Hoa Nu
She is also a member of the Saigon Association of Photographers.
The Club has been launched by Dao Hoa Nu and other outstanding photographers of the Vietnam Association for Photographic Artists.
It aims to help young and amateur photographers to gain knowledge from established photographers. The Club will also enable students to express their love for their motherland, organize activities for members such as sponsored photographic trips to other provinces, etc.
Furthermore, artists can upload their works on the website www.nhiepanhsangtao.com. Their photos will be selected for awards and prizes at photo contests launched by the Vietnam Artistic Photographers Association (VAPA).
"There clearly is a requirement for a training centre, as well as a platform for photographers to showcase their works," Dao Hoa Nu says, "Members of the Club come from all age groups and professions but have a common passion for capturing beautiful images on camera."
The Club has so far attracted many skilled female photographers from HCMC as teaching staff, of which 10 are members of VAPA. It also provides students with valuable information and photography textbooks written by famous world artists like Michael Freeman, John Hedgecoe, etc.
Photographer Thu An, a member of the training staff of the Club said that photography requires creative skills and much hard labor. All members of our club are dedicated and are eager to display their works.
"I appreciate all efforts in establishing the centre for photographers who instill great passion in their work," said Dao Hoa Nu.
International Prizes awarded to Dao Hoa Nu:
Japan's ACCU prize in 1987, 1989, 1994, 1995
Bronze medal in 1991 in Italy
Compliment award in 1993 in Italy
Compliment award in 1991, 1992 in Sri Lanka
Compliment award in 1990, 1992 in Hong Kong (China)
Her works have been exhibited in many countries worldwide such as England, France, Japan, Italy, Germany, Netherlands, Sri Lanka, Hong Kong (China), Thailand, Cambodia and Laos