The Ho Chi Minh City Youth Cultural House became more crowded than ever when all the city leaders and quite a lot of young people gathered to exchanges ideas on how to help the city develop and integrate into the world.
Secretary of the HCMC Party Committee Nguyen Minh Triet warmed up the meeting by saying that he wanted the meeting to be a dialogue with questions and answers in a very frank manner. He said: "Young people should know what their position is and what they should do to help our city develop".
He answered questions of young immigrants on the issues of permanent residence registration, equal employment opportunities, and the youth's role and position.

What the youth can do for the city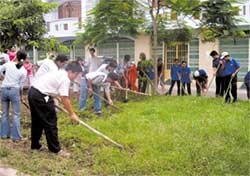 Young people participate in "Green Sunday" campaign to protect environment in Ho Chi Minh City

Nguyen Quang Dung, a student from the HCMC University of Social Sciences and Humanities expressed his idea that students should be well-prepared to seize great opportunities ahead. Most students agreed on the important role of young people in the development of the country, and the achievements made by them will benefit themselves, their countries and the entire humankind.
Doctor Vuong Thi Ngoc Lan from Tu Du Obstetrics and Gynecology Hospital said: "Before conducting a new experiment or work, we always asked ourselves where we're standing, who we are in this world to find out new ideas and motivation for the country's development."
Another same old story, but still a hot issue was raised: What is the ideal of young people nowadays? Vo Thanh Tam, who is currently working at the Linh Trung Export Processing Zone, quoted a famous saying in his own way: "Ask not what your city can do for you. Ask what you can do for your city". Tran Cong Tuan Ha from the Communist Youth Union of District 1 said: "I think the youth's ideal is their desire and ambition to devote and explore the knowledge of science and technology. In order to do so, there should be such factors as revolutionary tradition, scientific knowledge and trust in communism".
HCM City People's Council Chairwoman Pham Phuong Thao said that the ideal of youth is to help carry out the targets of enriching the people, strengthening the country and creating an equal and civilized society.
Answering a question of lecturer Vu Chi Thanh from the HCM City University of Medicine and Pharmacy on the city's key measures for integration and development, HCM City People's Committee Chairman Le Thanh Hai said there were two measures: developing human resources and supporting businesses.

How to attract human resources and support businesses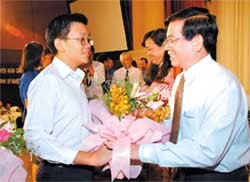 A youth gives flowers to HCMC Party Committee Secretary Nguyen Minh Triet at the meeting

The city has launched programs to train 1,000 business executives and 300 masters, doctors and more skilled workers for hi-tech industries and to attract young talented overseas Vietnamese to come back, Mr. Le Thanh Hai said.
The city also has plans to assist businesses in trade and brand promotion as well as economic restructuring.
At the moment, the training program of 300 masters and doctors is so limited that students from remote areas have few chances to find scholarship. There should be more scholarships for overseas study, suggested a former student of HCMC Economic University. Answering the question, Mr. Nguyen Minh Triet said that it depends on the city's budget.
The chairman also ordered the Ho Chi Minh Communist Youth Union to research policies to encourage the youth's participation in the city's development.
At the end of the meeting, Mr. Nguyen Minh Triet encouraged young people to send their initiatives and thoughts to the city leaders by post or email at any time and advised them to study more to meet the city's development in the new era.
Related Link:
Ho Chi Minh City