Lunar New Year is a time when Vietnamese people go to temples and pagodas to pray for happiness and good fortune and also turn to astrology to predict their future.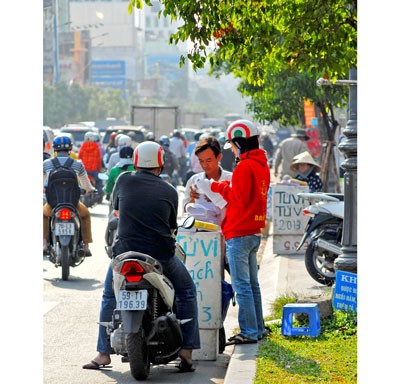 Mobile book stores sell astrological almanacs near pagodas in HCMC (Photo: SGGP)
Books on astrology and horoscopes sell in abundance in front of pagodas everywhere in the country.
On any average day, these sell clandestinely, but prior to Tet holiday season, they are sold openly.
Large quantities of books are sold in front of pagoda gates especially at Cong Ly Bridge near Vinh Nghiem Pagoda in Nguyen Van Troi Street in Phu Nhuan District.
Here there are more than ten mobile book stores along the 200 meter long street. Book price ranges from VND20,000 to VND100,000 (US$4.8).
Books and leaflets on every Chinese zodiac sign sell like hot cakes.
Not only books on astrology but also astrologers park themselves near temples and pagodas just ahead of Tet in places like Ong Ba Chieu in Binh Thanh District.
Books on fortune-telling and astrological almanacs take up a very important section in book stores in HCMC. Some of them have just been published while others are ancient, of authors dating back to China's dynasties. Many book stores concentrate on 'Feng Shui' books. Director of a publishing house said purchasing power of such books is very good.