An Interplast Australia surgical team provided free reconstructive plastic surgery to more than 30 patients at Cho Ray Hospital in Ho Chi Minh City during their two weeks in town starting on July 31.
The team planned to perform about 100 free operations for patients, especially children, with medical problems including scars, burns, cleft lips and fractures in the hands and feet. However, team leader Allan Meares, a Sydney specialist plastic surgeon, said since there were many patients with so many serious and complicated problems, his team could not perform more operations as they had hoped.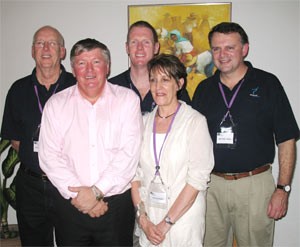 Allan Meares, James Masson, Michael Amos (back, L-R), Australian Consul General Mal Skelly and nurse Beavan pose for photos in Ho Chi Minh City. (Photo: Tuong Thuy)
Dr. Meares added that he was delighted that the four members – himself, fellow surgeon James Masson, anesthetist Michael Amos and nurse Sue Beavan – shared their knowledge and experience with their Vietnamese colleagues at Cho Ray, a major hospital in Viet Nam. They were also the first Interplast Australia surgical team to work with Cho Ray.
According to Dr. Meares, such surgical operations cost about US$5,000 or more each in Australia while the cost in Viet Nam ranges between US$120 and US$300.
The team's members said they expect more visits to Viet Nam, both for surgical operations and traveling.
Mr. Mal Skelly, Australian Consul General in Ho Chi Minh City, said at a reception for the Interplast delegation at his residence, "It is a great pleasure to witness increasing partnerships between Cho Ray Hospital and various organizations from Australia, including Interplast, which target patients in need, changing their life and giving them hope. This is one of the benefits of the strong relations between Australia and Viet Nam and helps to develop further links."
Interplast Australia is a non-profit organization providing voluntary medical teams to undertake programs of plastic and reconstructive surgery in developing countries in Asia-Pacific.
Related article
Aussie Doctors to Conduct Free Reconstructive Surgery in HCM City