Australian Foreign Minister Kevin Rudd arrived in Ho Chi Minh City on Wednesday morning on his first Vietnam visit that lasts one day, and flew to Hanoi.
He was due to meet with Vietnam's President Nguyen Minh Triet, Prime Minister Nguyen Tan Dung and Foreign Minister Pham Gia Khiem in the capital in the afternoon.
"Vietnam is an increasingly influential player in the region. In 2010, Vietnam successfully chaired ASEAN and hosted the East Asia Summit, which proved to be a pivotal year for the forums," Mr Rudd said in a statement from his office.
"Vietnam is fast becoming one of our most important partners in the Asia Pacific, and as we consolidate the bilateral 2009 Comprehensive Partnership, our growing trade and investment relationship will be front and centre of discussions," he added.
In the morning, Mr. Rudd opened RMIT Vietnam University's Recreation and Events Complex and Residential Centre. He then visited the Ho Chi Minh City Orthopaedic and Rehabilitation Centre, where announced AU$4 million over four years for the work of the International Committee of the Red Cross (ICRC) Special Fund for the disabled in Vietnam and other mine-affected countries.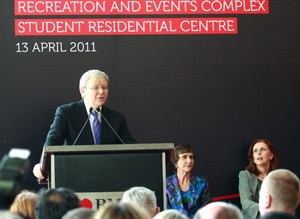 Australian Foreign Minister Kevin Rudd delivers a keynote address on the Australia-Vietnam relationship at RMIT Vietnam University in Ho Chi Minh City on April 13, 2011 (Photo: Le Thuy)
"Vietnam is one of the most mine-contaminated countries in the region with an estimated 100,000 mine survivors. Over 20 per cent of the country is estimated to contain some 800,000 tonnes of explosive remnants of war which continue to kill and maim scores of Vietnamese every year," the Australian FM said during his visit to the rehabilitation centre.
"This new investment in the ICRC Special Fund for the disabled will help centres such as this assist more men and women with prostheses and rehabilitation, giving them the opportunity to work to support their families and fully participate in their communities," Mr. Rudd said.
"It builds on more than $5 million Australia has invested in ICRC's work in Vietnam and other mine-affected countries since 2006, which has provided rehabilitation services to over 17,000 people."
Australia will also invest AU$2.5 million through the Convention on Cluster Munitions Trust Fund of Laos to help the Lao government clear unexploded ordnance from contaminated land, according to him.
Earlier at RMIT, an Australian university, Mr. Rudd delivered a keynote address on the Australia-Vietnam relationship and met with RMIT students. "Australia wishes to build a new partnership with Vietnam for the long-term future," he said.
"Australia's deep commitment to the [ASEAN] region is central to our national interests. And Vietnam's success is important to Australia's success. Australia and Vietnam established diplomatic relations in 1973, towards the end of the Vietnam War.
"The return in 2009 of the remains of the last Australians unaccounted for in that terrible conflict has drawn a line under that chapter in our shared history, though the terrible sacrifice on both sides in that war will never be forgotten. The relationship we now share could not be more different from the relationship we began 38 years ago.
"Indeed, Australia recognises Vietnam as one of our most important partnerships in the region – vital now, more vital the further we press into the 21st century. I'm pleased that Australia's interest is reciprocated by Vietnam.
"That's why we have greatly upgraded the relationship, most clearly through the 2009 Comprehensive Partnership Agreement, the signing of which I witnessed as Prime Minister in Canberra with General Secretary Nong Duc Manh.
"Within this framework, we are building a truly comprehensive cooperation.
"… As noted already, our biggest aid project in Vietnam – a $160 million contribution to the design and construction of the Cao Lanh bridge – exemplifies this.
"The bridge over a major Mekong tributary will be a key part of major new road infrastructure – the Central Mekong Delta Connectivity Project – that will link five million people to markets across the Delta and into greater South East Asia. Replacing river ferries, the productivity boost to the region will be enormous," said Mr. Rudd.
Regarding education cooperation, he said, "As Australia's Foreign Minister, I am proud that Australia is playing such a key role in supporting the higher education revolution [of Vietnam], through:
"400 higher education scholarships per year for high performing Vietnamese students to study in Australia under the Australia Asia Awards; 26 000 Vietnamese student enrolments in schools, technical colleges, English education and universities, overwhelmingly self-funded; and 15 000 Vietnamese students studying Australian courses right here in Vietnam."
Late Wednesday, Mr. Rudd was set to leave Vietnam for Germany's Berlin, where he will attend the International Security Assistance Force (ISAF) meeting, according to a source from the Australian Embassy Hanoi.