The Ho Chi Minh City Economic and Budget Commission have still not been able to identify any particular individual or organization responsible for polluting the area around Le Minh Xuan Industrial Zone.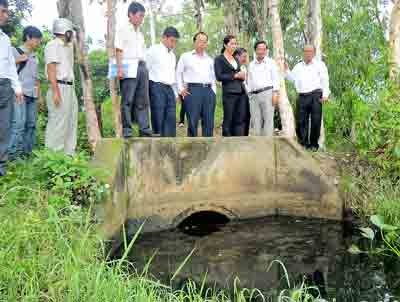 Despite having waste water treatment facilities, companies to discharge waste water into Drain No.6 (Photo: SGGP)
The Commission authorities have held several meetings with residents living in surrounding areas of the Le Minh Xuan Industrial Zone (LMXIZ) on September 7 and 8, but are still clueless as to who the culprit really is.

Polluters still at large
Huynh Thuan Giau, spokesperson representing the 60 families living in the concerned area gave details of time and place that the waste water and exhaust fumes were being discharged, to authorities conducting the enquiry.
Giau said that in particular, drain No.6 usually had red-colored water flowing through at around 3am every Saturday and Sunday, which turns black after a few days and then absorbs slowly into the soil, contaminating the groundwater.
Residents now have to dig as deep as 150-200m for clean water instead of the normal 45m in the past. Once water levels rise, this waste water overflows in areas near the drain. This contamination has resulted in all the 19 households of Quarter 15 in Tan Nhut Commune in Binh Chanh District to suffer from respiratory diseases.
Nguyen Van Le, Chairman of Binh Chanh Construction Investment Company claimed no responsibility in this case and so did Tran Hong Son, director of the Industrial Zone. They blamed the 10,000-15,000 employees working and living inside the Industrial Zone who they claimed discharged approximately 1,000-1,500 cubic meter of waste water every day. Other smaller companies located in between residential areas could also be responsible.
Arguing their claim, Pham Thanh Truc, Head of the Environment Management Office of Hepza reasoned that the colour of water indicated that it was not waste water from resident homes but from industries. He promised to find the real source and resolve the issue.
Director Tran Hong Son, representative of the HCMC Natural Resources and Environment Department said the department had been carrying out all proper inspections in LMXIZ, and there was nothing to show that they were violating environmental laws. 
Pham Van Dong, Chairman of the HCMC Economic and Budget Commission commented that suggestions had been given in plenty but there was still a dire need of effective solutions!
Businesses disregard penalties
Truong Thi Anh, Vice Chairwoman of the HCMC People's Committee, questioned the need of involving the law as all the residents' complaints seemed to show that things were under good control.
Son said that businesses disregarded any penalties imposed and continued wrong practices, regardless. Nguyen Van Truong, Vice Chairman of the Binh Chanh People's Committee also pointed out that authorities wished to withdraw business licenses of certain companies but could not, due to loopholes in environment regulations.
Truong also mentioned the temporary halt to the tree planting project inside the Industrial Zone, pointing out that it should be implemented as an effective solution to reducing pollution in the area. However, the hesitation of the investors to offer compensation to 156 affected households has shelved the project. At present, Binh Chanh District is looking at the feasibility of such projects once again.
Related article:
Le Minh Xuan Industrial Zone pollutes more and more