The Department of Transport has issued strict regulations for vehicular traffic, prior to the opening of the Thu Thiem Tunnel in Ho Chi Minh City on November 20.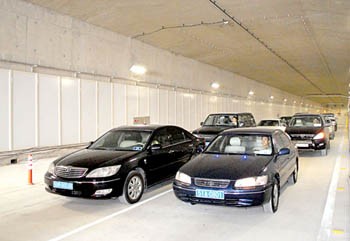 Thu Thiem Tunnel will be open for traffic on November 20 (Photo: SGGP)
Thu Thiem Tunnel is an important section of the East West Highway, linking Highway 1A in Binh Chanh District to the Hanoi Highway in District 2.
Vehicles travelling from Highway 1A to Ham Nghi Street in District 1 and then on Vo Van Kiet Road (East West Highway) will continue through the Thu Thiem Tunnel (under Saigon River) onto the Hanoi Highway and vice versa.

Cars and buses will be allowed to ply the tunnel 24/7, while light trucks of less than five ton capacity between 8am-4pm and 8pm-6am, whereas those over five ton capacity will be allowed through between 9pm and 6am every day.
Motorcycles will be allowed between 6-9pm with maximum speed of 40 kilometers per hour.
For automobiles the maximum speed is 60 kilometers and minimum 30 kilometers an hour. They must also keep a safe distance of 30m from the vehicle in front.
Pedestrians, unregistered three or four wheel vehicles, oversized vehicles, bicycles, livestock carrying carts and toxic waste are strictly banned from the tunnel at all times.
The above regulations will be displayed on electronic boards at both ends of the tunnel and on some roads connecting to the East - West Highway route.
In event of accidents or other problems, electronic boards will also inform people what they should do.
The boards will be installed on Highway 1A, Hai Thuong Lan Ong Street in District 5, Ky Con Crossroad, 25B Road, Tran Nao Street in District 2 and crossroads leading to the Thu Thiem Tunnel.
Department of Transport and relevant authorities will closely monitor vehicles, install sign boards and commission staff to watch both ends of the tunnel to deter prohibited vehicles from entering.
A CCTV camera system will be installed to monitor all vehicles inside the tunnel.
Blowing of horns, turning on head lights or stopping vehicles in the tunnel will be prohibited.
Car drivers must dim parking lights and lower radio frequencies to 665 KHz, 610 KHz or 588 KHz.
Tran Quang Lam, Director of the Thu Thiem Tunnel Management Board said that a seven member group will handle traffic jams and provide first aid in case of accidents in the tunnel.
The HCMC People's Committee has also issued regulations to ensure security, fire fighting and prevention and rescue operations.
Related articles:
City prepares to open Thu Thiem Tunnel to traffic
City's Party leader makes last inspection of tunnel before launch