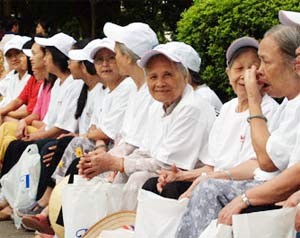 The elderly people in District 1, Ho Chi Minh City, take a rest after a leisure morning walk. (Photo:TK)
The average life span of Ho Chi Minh citizens has increased to 75.1 years, with the figure for women falling at 76.8, according to an announcement by city authorities at a meeting yesterday.
Mr. Nguyen Van Dua, Standing Deputy Secretary of the city's Party Committee, chaired the meeting to review the 10-year implementation of Ordinance No. 59 by the Central Party's Secretary Committee on caring for the elderly.
He said, "For the past 10 years, the average lifespan of Ho Chi Minh citizens has gradually increased to higher levels, proving that the region's standard of living is getting better and better."
According to the report, Ho Chi Minh City currently has some 422,500 residents over the age of 60, accounting for nearly 6.92% of the city's total population. Of that number, about 70,800 are still working while another 2,000 are considered to be lonely and displaced.
In the near future, the city will establish a fund for the support of elderly citizens considered to be living in a disadvantaged state, extending social support to people over the age of 90. Various activities and social programs will also be organized to increase the level of community care services available them.