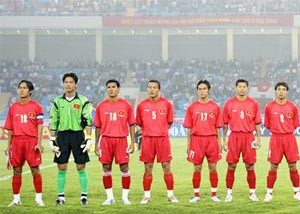 Viet Nam football team
Bach Viet Cup 2006 will be broadcast live on VTV and HTV channels.
The event, previously known as the LG Cup, is among the annual activities the Viet Nam Football Federation organizes for the national team in preparation for international tournaments.
The Bach Viet Cup will kick off on November 15, but the broadcasting copyrights between organizers of the football cup, Bach Viet Media Company, and domestic television station Viet Nam Television (VTV) were not agreed upon.
Terms offered by Bach Viet include an amount of US$30,000 for the copyrights, live broadcasting of all matches, opening and closing ceremonies, broadcasting 10 30-minute advertising clips 10 times a day.
Bach Viet Media Company also asked VTV to pay them 30% of the money collected from advertising services before, during and after broadcasting the matches of the competition.
VTV found it hard to meet these requirements and refused to broadcast the Bach Viet Cup
Ultimately, VTV agreed to buy the broadcasting copyright for US$20,000 today and will not pay anything else.