An 800-ton barge carrying eight concrete beams broke its moorings on the Thi Nghe Canal in Ho Chi Minh City to drift and slam into the Thi Nghe Bridge at 2:30 pm on November 17, damaging the bridge and blocking traffic for four hours.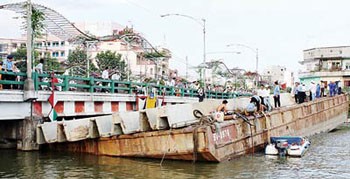 The barge hits the Thi Nghe Bridge in HCMC November 17 (Photo: SGGP)
A part of the barge BV-0976 was stuck under the bridge. One of the bridge's piles has a 60cm-long crack.
The barge is being used for the Environmental Hygiene Project on the Nhieu Loc-Thi Nghe Canal, a project official, Tran Quoc Thong, said.
The water in the river could have been flowing rapidly due to a high tide, he said while speculating about the cause of the mooring break.
Three fire trucks arrived on the scene to pump water into the barge to sink it lower in the water and boats were then used to tug it out. The work was completed by 7pm.
Tran Quang Phuong, director of the HCMC Department of Transport, said though the bridge is not seriously damaged, as a safety measure, only cars with fewer than nine seats and motorcycles are being permitted to travel on the bridge.
Le Quyet Thang, director of the department's Urban Traffic Management Zone No.1, said, however, a side girder in the middle portion of the bridge is badly damaged and it would take about two months to repair.
The department will continue to assess the damage on November 18.
The incident caused traffic jams on streets leading to Hang Xanh Roundabout and Thu Duc District like Dinh Tien Hoang, Nguyen Binh Khiem, Nguyen Thi Minh Khai, Nguyen Huu Canh, and Xo Viet Nghe Tinh.
The 105-meter bridge spanning the Thi Nghe Canal to connect Districts 1 and Binh Thanh was built before 1975.