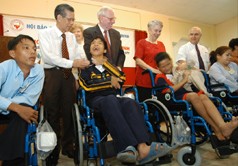 Paralysed children are so happy with new wheelchairs
The Ho Chi Minh City Sponsorship Association for Poor Patients (SAPP) held the 10th anniversary of its campaign for disabled and underprivileged children on July 28.


In the past ten years, the organization has organized seven programs to help 76,000 disabled children, including Operation Smile for cleft lip and palate patients, eye surgery for the blind and wheelchairs for the paralyzed with the fund of over VND 71 billion, raised by local and overseas benefactors.
SAPP also announced its eighth program on healthcare services for poor women and children in remote and ethnic minority areas. On this occasion, benefactors contributed more than VND31 billion and 2,000 wheelchairs to the association.