The Sponsor Association for Poor Patients has just given 400 health insurance cards to poor people in Districts 3 and 4 in Ho Chi Minh City, with added help from banks and benefactors.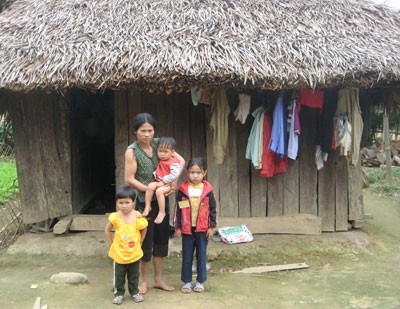 A poor household ( Illustration photo)
To help poor households overcome difficulties, the People's Committee in District 8 has launched a program to provide health insurance cards to as many as possible.
The committee is targeting 4,300 cards worth more than VND1.2 billion (US$57,611). District 8 has 2,000 poor households with an annual income of VND8-12 million per head.
Along with encouraging people to buy cards, district leaders have asked party members to buy cards as well. Three members will pay for one card and benefactors in the district will buy 1,650 cards.
Households with annual income of VND8 million per person are not interested in health insurance cards although they receive 50 percent support to buy. Of around 35,000 poor households, only half have insurance cards, including 30 percent that are willing to buy, and the remaining receiving cards from benefactors.
The reasons that the poor do not patronize health insurance are their unawareness of the advantages of having a medical insurance card and also lack of belief if they will receive any support.