Major home appliances stores in Ho Chi Minh City launched big year-end sales programs over the weekend, prompting a shopping spree.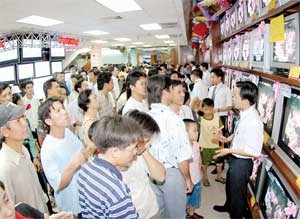 Sai Gon-Nguyen Kim crowded with shoppers over the weekend (Photo: SGGP)
The stores include Ideas, Thien Hoa, Loc Le and Sai Gon-Nguyen Kim. They are discounting DVD players, CRT and LCD televisions, photo and video cameras, refrigerators, washing machines, microwaves and many other home appliances.

Thousands of shoppers were seen lining in long queues at Sai Gon-Nguyen Kim on the Sunday afternoon despite of the rain in the shopping spree, which is also being seen at other stores.
Sai Gon-Nguyen Kim started its weeklong big sales program on Friday, with discounts for more than 20 lines of products. Marketing manager Nguyen Xuan Phu said, "There are so many, many buyers. We have to make deliveries later because some items are out of stock."
 
Analysts say the sales programs are not merely a year-end campaign. Manufacturers like LG, Sony, Toshiba, Philips, JVC and Reetech accept big discounts to strongly promote sales, especially items with low sales in regional countries and other developing nations.
Pressure also comes from the fact that Viet Nam has joined the World Trade Organization. Since Viet Nam's WTO accession in early November, home appliances have become cheaper.
Another reason is the prices of out-of-fashion items go down as usual. Some examples are:  
- LG 162 DVD player: price down to VND490,000 from VND900,000
- LG 26-inch LCD TV: price down to VND9.5 million from VND23.9 million
- Sanyo 20-liter microwave: price down to VND990,000 from VND1,490,000
Ms. Bui Thanh Hang in Ho Chi Minh City's District 11 bought a Toshiba 29-inch CRT TV at VND4.3 million and a Philips DVD player at VND850,000 from Sai Gon-Nguyen Kim. She got two discounts of VND2.5 million and VND440,000, respectively.
She said she did not see "discounts for high-resolution TVs with prices over VND10 million."