The "Big Sale Month" program, hosted by the Department of Trade and the Tourism Department of Ho Chi Minh City from March 1 to 31, is coming to an end. Because the program was introduced early and promoted more excitedly than that of last year, there were more consumers shopping at the sale stores this time. Most of them were young people, officials, workers, and tourists.

According to the initial record of the Department of Trade, visitors to over 200 stores of 100 enterprises participating in the Big Sale Month have increased considerably, up from 30%-50% at markets and street stores, double or threefold at supermarkets. The revenues have also increased accordingly.
Good success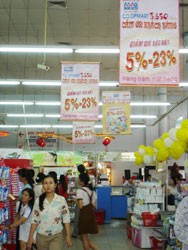 Customers go shoping in supermarket Co-opMark Cong Quynh
During the program, revenues of the Viet Nam Milk Joint Stock Company (Vinamilk)'s agents and stores enjoyed a 177% year-on-year increase. Vinamilk is the main sponsor of the program. Ben Thanh market's revenues increased 30% and Tax shopping mall's revenues two or threefold. MaxiMark supermarkets reported an increase of 30% in both revenues and visitors. On the first ten days of the Big Sale, high-class Parkson department store's revenues increased 120% compared with those of the peak ten days in the past Lunar New Year.

With the participation of many enterprises from various economic sectors, lots of private businesses also voluntarily responded to the program with sales and promotion activities. Most of them sell clothes and consumer goods in the main streets of Districts 1, 3, 5, and Phu Nhuan and Tan Binh Districts.
More work to do

"31 days of jubilant shopping" is the slogan of the Big Sale Month program, which has been marketed by a professional advertising company. The program has been broadcast and telecast repetitively. The Big Sale also has been advertised in some newspapers, 60,000 brochures and thousands of panels. However, many people still did not know where to buy goods on sale.

Some shops at the Parkson department store had goods for sale only a few hours a day. At Tax shopping mall, there were only a few stores participating in the Big Sale program.

Therefore, lots of matters need to be looked at and thoroughly discussed before the third "Big Sale Month" is held in September 2006.