Binh Chanh is seeking approval to develop a 1/5000 scale map of the district that will help its area better, as it struggles with illegal constructions, pollution and migration issues.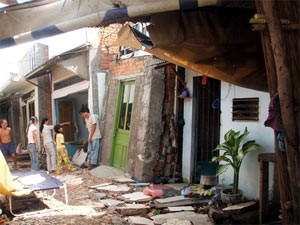 Many low-roofed houses in Binh Chanh District 
The request for approval was made at a meeting on Tuesday between district officials and Chairwoman of HCMC People's Council Pham Phuong Thao and various council departments. 
"Binh Chanh has been troubled recently about the increasing population in this district due to two reasons, the poor have been asked to move out to some suburban areas from the city centre, and more residents from neighboring provinces have flocked here to buy land and build houses," said Mr. Le Van Hoa, Binh Chanh District Party Committee Secretary. 
"This increase has caused some seriously negative impacts on the development of the district, such as the increasing number of houses built illegally beyond the control of the officials, making security and safety management harder," he added. 
Agreeing with Mr. Hoa, Mrs. Thao emphasized that Binh Chanh was yet to get satisfactory results from its efforts to deal with three main problems of traffic jams, unauthorized construction and pollution.  
"In fact, the recent investment in infrastructure in this area has not matched demand and requirements of local residents in fact," she said, conceding that the influx of neighboring residents had caused a management impasse.  
Mrs. Thao urged district officials to report to the council in the near future all the problems relating to migrants and land fund management, as also difficulties faced in infrastructure development.  
"The city is responsible for putting up more investment in infrastructure in Binh Chanh. This will help prevent this problem from causing more troubles in the coming time," she said.  
The chairwoman also required Binh Chanh officials to pay more attention to keeping urban lifestyles healthy. 
"Officials should join hands with the HCMC Export Processing and Industrial Zones Authority and Department of Natural Resources and Environment to inspect and strictly deal with factories in the Le Minh Xuan and Vinh Loc industrial zones that are dumping toxic waste and polluting the environment," she advised.