Binh Chanh is one of five rural districts in HCMC but has been lagging behind the four others due to pressure from fast mechanical population increase and problems in management.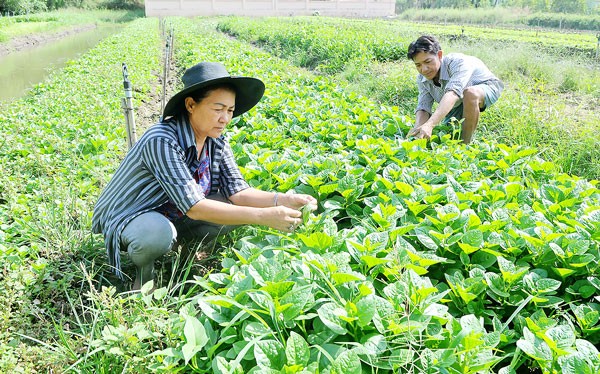 Vegetable cultivation under VietGap quality standards in Binh Chanh (Photo: SGGP)

At a meeting with the HCMC People's Council on the new rural development program last yearend, Binh Chanh leaders reported that local population has increased about 30,000 people a year for the last ten years because of streams of immigrants from other provinces and cities.

The number now reaches 630,000 people, tenfold that in Can Gio where area is double Binh Chanh.

Of the total population, Vinh Loc A and Vinh Loc B comunes have over 100,000 each. This has raised big pressure for local authorities in management and largely affected the new rural development program in the district. The two communes have met 18 out of 19 norms under the program with the unobtainable one being public order and political system.

Secretary of the district Party Committee Nguyen Van Phung said that Vinh Loc A and Vinh Loc B account for 50 percent of the district's population and have 160 establishments buying scrap and recycle materials, causing difficulties in environment protection.

Moreover, canals and rivers polluted by households and industrial wastewater and indiscriminate littering has yet to be solved.

In general, Binh Chanh have yet to obtain targets in regular employment, gross domestic product (GDP) per capita and public order of the new rural development program.

Management model for rural districts and communes has unsuited the practice in Binh Chanh. So the district proposed the council to pilot ward management model in eight crowded communes to reduce the population pressure.

Mr. Nguyen Van Dung, head of Economics and Budget Committee under the city People's Council, said that quick urbanization due to population increase will halve farming land area to 8,000 hectares in Binh Chanh by 2020.

The fast population increase has created a neck bottle for the new rural development program in the phase of 2016-2020, he added.
At a conference to implement the program in 2017, deputy director of the HCMC Department of Agriculture and Rural Development Tran Ngoc Ho, said that Binh Chanh have obtained remarkable results in the program.

Technical and social infrastructures have been improved to facilitate production. Spiritual and material lives of locals have taken a step up. GDP per capita approximates VND40 million a year.

However these initial results have not been as expected by the city. Compared to four other rural districts, Binh Chanh undergoes larger pressure from urbanization and mechanical population increase.

With low starting points in economic and social infrastructures and the biggest limitation of irrigation system, the district should improve norm quality in the new rural development program in the phase of 2016-2020.
Binh Chanh is under urbanization towards an urban district. However the process needs a roadmap and time. So the district should pay attention to planning and focus on production stabilization especially farming.
Infrastructures need be developed for hi–tech application. Non-farming production models including industry, handicraft and services must ensure environmental protection.
These all aim to hike income to at least VND63 million ($2,768) a person a year and agricultural production value to VND800 million ($35,000) per hectare a year.
Waste and wastewater treatment should be piloted in each hamlet then broaden to communes to completely solve environmental pollution by 2020, he said.