On the very first day of the opening of the new toll station for Binh Trieu 1 Bridge on August 1, a severe traffic gridlock caused congestion from Binh Trieu Crossroad onwards, bringing all vehicles to a halt for hours.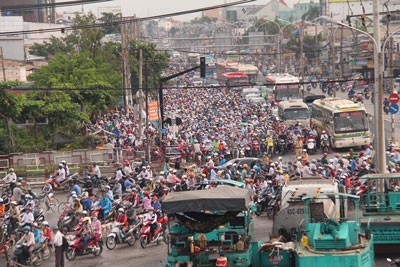 Severe congestion in Binh Trieu Bridge on the first day of opening the new toll station (Photo: SGGP)
The situation worsened at a section closer to the new toll station. This resulted in the HCMC Infrastructure Investment JSC (CII), the bridge investor, stopping the process of fee collection in the hope of clearing the traffic.
However, the traffic snarl persisted with motorbike drivers resorting to driving on sidewalks and through side alleys, causing further chaos.
At the foot of the bridge, buses and other larger vehicles found it difficult to maneuver through the narrow roads, as barriers placed by construction companies blocked the way.
Collecting fees at Binh Trieu 1 and 2 bridges is to refund the investment capital for the Binh Trieu road and bridge project under the build-operate-transfer (BOT) contract between the city government and CII.