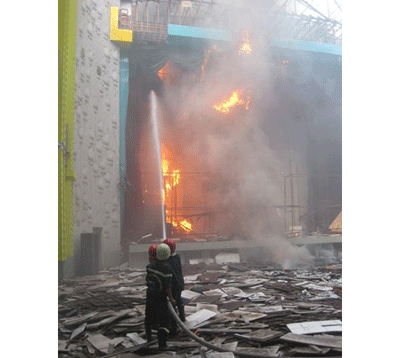 Fire fighters struggle to put out the fire
A huge fire broke out at the construction building of Thang Long Cinema on 19 Cao Thang Street in Ho Chi Minh City on Sunday morning, which took fire fighters more than 30 minutes to extinguish.
No casualties were reported, but machines, equipment and material inside the under-construction cinema hall were burnt, so was the roof of the building and all the furniture.
The sudden blaze sent dozens of workers rushing out of the building in panic. 
An initial investigation showed that sparks by a careless welder ignited a pile of foam and corrugated paper lying nearby an air conditioner.
Supposedly, the gas in the air conditioner exploded spreading the fire to the rest of the cinema hall. Inside the cinema hall building, there was a lot of highly inflammable material which fueled the fire further.