According to a directive issued by the Ministry of Transport effective from July 15, boatmen and passengers will be required to wear a lifejacket while crossing any river, with the boat's owner having the prerogative to refuse any passenger who does not comply.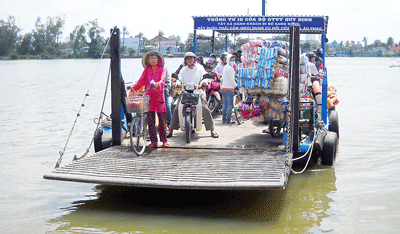 Neither boatmen nor passengers wear life-jackets when crossing the river by ferry in Binh Thanh District (Photo: SGGP)
However, thousands of people in Ho Chi Minh City continue to cross rivers on old and unsafe boats and neither the boatmen nor the passengers wear lifejackets.
Ferries display huge boards-"Wear Lifejackets for Protection", but people just ignore these warnings nor do the boat owners insist, even though under the ministry directive they will be held accountable in case of any accident while crossing a river.
On July 15, most of the passengers on Binh Quoi Ferry in Binh Thanh District were seen without lifejackets near a board saying, "As per Ministry of Transport rules, wearing of lifejackets is mandatory".
Similarly, the Cat Lai Ferry connecting District 2 and the southern province of Dong Nai is equipped with lifeboats and lifebuoys but not lifejackets. Passenger Phan Van Thang, from Vinh Thanh Commune in Nhon Trach District in the southern province of Dong Nai, said he has to cross the river twice a day for his business but he has never seen ferry owners provide lifejackets to anyone. Personally, Thang thinks the ferry is safe because it is so huge.
Phan Cong Bang, head of the Department of River Traffic Management in HCMC said boat owners had been told about the new regulation and anyone not complying would be fined.
Bang said that since boat owners and passengers are not used to wearing lifejackets, supervisors will issue a first time warning but will subsequently fine those violating the rules.