The police found the body of the worker under the debris of the building that collapsed in Ho Chi Minh City's District 7 on December 31.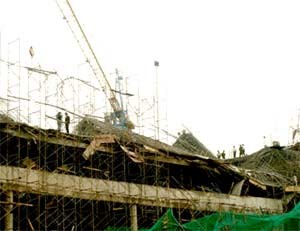 The CR4-1 building whose fifth floor collapsed, killing two workers and badly injuring 14 others. The body of one of the deceased was found after a 34-hour search (Photo: Tuoi Tre Newspaper)
Nguyen Thi Bich Tuyen, 24, died after apparently being crushed by the concrete slabs that fell on top of her after Phu My Hung Corporation's under-construction CR4-1 building partially collapsed. 
They had been searching for her for 34 hours, with three police dogs assisting them. 
It took more than 20 fire and police personnel and dozens of workers seven hours to extricate her body from beneath the debris.  
A preliminary report by investigators blamed the contractor, Vien Dong Construction and Technical Service Co. Ltd, for failing to make the columns strong enough. 
One other worker was also killed and 14 others seriously injured when the fifth floor of the building, under construction since July, collapsed without warning.
Related article:

Scaffold collapses, one death, 14 injured