A festival named 'Book Road' will be held to celebrate the Tet holiday in 2011, announced the Ho Chi Minh City Department of Information and Communications (DoIC) at a press conference on January 13.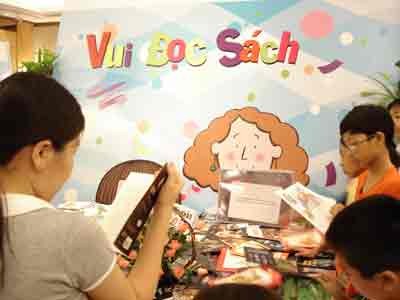 Children and their parents enjoy reading books at a book exhibition in 2006 in HCMC. DoIC will hold a festival named "Book Road" to promote and increase reading culture on Tet holidays. (Photo: Phuong Oanh)
The Book Road Festival, the first of its kinds, aims to promote and increase the reading culture and tourism for the city.
The book festival, which will have a variety of books, will be held along Mac Thi Buoi Street, next to the Flower Street on Nguyen Hue Boulevard from January 31 to February 6.
The main theme of the festival is 'Dreams', which is meant to reflect the city's aspirations for social and culturally development. The highlight of the festival will be a variety of books for children.
In addition, the festival will display ancient and precious books, electronic books, books for the disabled, plus being able to meet the book traders and various authors.
On this occasion, DoIC and the Press Association will hold a two-day festival to introduce special newspaper editions for Tet, with 40 different types of newspapers from around the city.
Under the theme 'New Height', the Flower Street Festival and the Book Road Festival is expected to be a cultural and poetic delight.