Ho Chi Minh City's People's Committee has sent its proposal to the Ministry of Labor, Invalids and Social Affairs to increase the social insurance fee to ensure the lives of retirees. The proposal has the widespread support of employees and labor experts.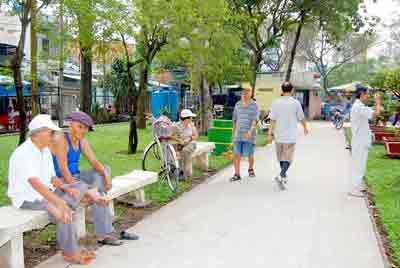 The olders  in district 8 walk in a park to exercise. Retirees  can live on their pension only if social insurance payment is  higher (Photo: SGGP)
A lecturer of a university in the city who has the total length of service over 20 years said his total monthly income including wage of scientific researches and extra classes is around VND10 million (US$ 490); however, I will just receive nearly VND3 million when I get retired because my official salary is VND4million.
Tran Hoang The, an economic expert in a joint-stock company also complained he will receive VND3,750,000 when retiring although his real wage is over US$1,000 but in his level stated in the contract was a mere VND5 million (US$250) ( it is equal to 75 percent of the official contracted salary).
The said he agreed to pay higher for social insurance fee but the employers pretended several reasons as an excuse to refuse.
A recent survey showed that most of labors in the state companies or foreign-invested, equitized and privately held enterprises pay interest to real income (monthly salary and bonus) rather than basic salary in the contract.
In addition, employees neglected the contracted salary due to their hunger for job or lack of social knowledge. Some businesses take advantage of the loophole of law to understate wages in labor contracts to dodge social insurance payment. Businesses have two separate payrolls, with one for tax payment purposes and the other for social insurance fee payment.
Many laborers fretted that they could not live on the pension when they went into retirement.
Although social insurance fee has increased since 2010; that the employers must pay 16 percent and laborers 6 percent, it can not still ensure the retired an adequate life.
Labor experts warned the lax behaviors of relevant agencies towards social insurance payment at present of some businesses which take advantage of the loophole of law to understate wages in labor contracts to dodge social insurance charge will cause catastrophic consequences in 10 – 20 years later. It is the workers who suffer most.
Most of foreign investors tried to exploit the loophole in the law to boost profits; they therefore don't want to increase social insurance payment. The government needs to consider the related regulation and salary policy.


Nguyen Thi Dan, head of Department of Labor and Wage, the HCMC Department of Labor, Invalids and Social Affairs, said many businesses build up the payrolls based on regulated minimum wage level plus 7 percent for trained persons and 5 percent for those working in toxic environment. It should consider all income and bonus as official salary and lowest social insurance charge is regulated to be equal to how much percent in total income of employees. Labor union must supervise the building up of payroll.

Do Quang Khanh, deputy head of the social Insurance Company, said his company has petitioned to raise insurance upon the real income to ensure the right of laborers. Wage policy in state companies and foreign invested businesses should be therefore equivalent.