The surging high tide burst a section of the embankment along the Ong Ngu Bridge Canal causing severe flooding in several houses in Ward 28 in Binh Thanh District of Ho Chi Minh City early Thursday.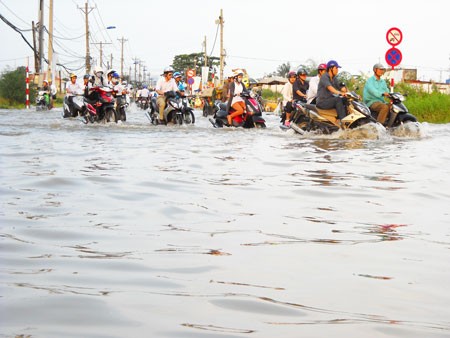 Luong Dinh Cua is one of the worst flooded streets in HCMC (Photo: SGGP)
The two meter long breached section allowed the river water to gush out and flood tens of nearby houses and damage household belongings.
Soon after the incident, local authorities rushed to repair and fortify the breach and pump water out of the residential area.
On the same morning, the high tide also burst some sections of the dykes in Linh Dong, Tam Phu and Hiep Binh Chanh Wards in Thu Duc District, inundating nearby roads and houses.
Several streets in Districts 2, 7, 8, Binh Tan and Binh Thanh Districts continued to be submerged till Thursday evening. The worst inundated streets were Luong Dinh Cua, Huynh Tan Phat and Ngo Tat To, which were under 30-50cm of water.
According to the Southern Regional Hydro Meteorological Center, the rising high tide was the result of northeasterly winds blowing from the East Sea.
Water levels on rivers and canals in HCMC are high at the moment and will remain so for the next few days.
The People's Committee of HCMC on Thursday instructed the Steering Center for Urban Flood Control to ease flooding in those spots that were registered as most vulnerable in 2012 and continue to improve on another ten spots in the coming year.
District authorities have also been asked to hand over land to investors for a project to improve the Ba Bot Canal by October 31. They must also prevent and strictly handle environmental pollution in the Nhieu Loc-Thi Nghe, Tau Hu-Ben Nghe, Doi, Te and Tan Hoa-Lo Gom Canals.