On December 15, a surging high tide breached a 15m section of the dyke in An Phu Dong Ward in District 12 in Ho Chi Minh City, inundating tens of households and factories under 1.5 meters of water.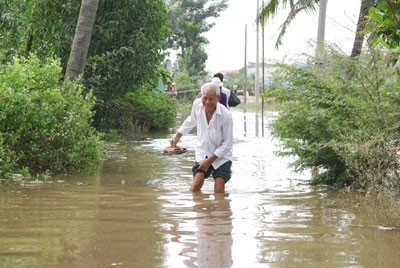 High tide breaches a dyke in An Phu Dong Ward in District 12 in HCMC on December 15 (Photo: SGGP)
According to local residents, water suddenly flowed into their homes at 4am on December 15 whilst they were still asleep, after the dyke   embankment along the Tram Canal burst.
Personal belongings of these households were submerged under water. Local resident Le Van Thao said the water came in too quickly for them to salvage any of their furniture and belongings in time.
Soon after the incident, District 12 authorities mobilized nearly 200 people, including police and civil servants to repair the breached dyke section and evacuate residents and movable property to safer locations. By 2pm of the same day, repair work was complete.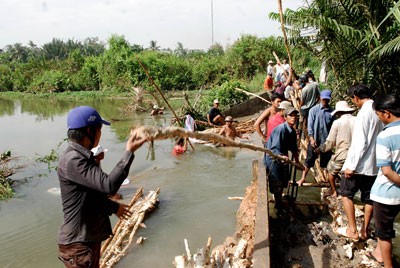 People help repair the breached dyke section (Photo: SGGP)
Fire fighting forces in the district brought equipment to pump water from residential areas.
According to initial estimates, about 15 hectares in District 12 was flooded including houses, farm crops and fish ponds.
The Southern Regional Hydro Meteorological Center said that the high tide in mid December has exceeded the danger mark of level 3 in HCMC.