Le Hoang Quan, chairman of the city's People's Committee, sent a report Wednesday to Prime Minister Nguyen Tan Dung concerning the negative impact of the construction of the Phu My Bridge on transportation on the Sai Gon River.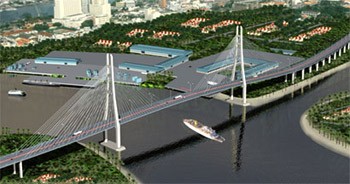 An artist's impression of the Phu My Bridge
At a meeting last week, Hoang Tat Thang, deputy director of the Vietnam Maritime Administration (Vinamarine) worried shipping companies and ports when he informed them that clearance under the bridge is 37.75 meters. This might obstruct container ships sailing into Sai Gon, Ben Nghe or VICT ports.
 
At present, only one ship can get through the construction site instead of two together as before.
 
Nguyen Thanh Thai, general director of the Phu My Bridge Joint Stock Company, the contractor for the project, said if it's essential, the company will dredge the river bed to expand the lane to ensure safety of ships. If big ships can't get through the site, they might unload at another port.
 
In the report, Mr. Quan said the city ordered the Phu My Bridge BOT Company to report to Vinamarine concerning the progress of construction, equipments and schedules in a bid to ensure the progress of the project and safety of maritime transportation.
 
The company was also asked to collaborate closely with port authorities and navigators to ensure maritime safety, and establish an around-the-clock management team working at the construction site under the management of Vinamarine to timely solve potential problems of the transport during the construction.
 
In related news, the Ministry of Industry and Trade said the construction has prevented transport of one-third of ships and a half of containers or 40 million of commodities getting through the construction site.
 
The Ministry has asked relevant agencies to properly divide shipping lanes and take technical measures to facilitate transport of cargo ships in the coming time, especially in year-end months when imports and exports are rising.
The six-lane suspension bridge, which has a total length of some 2,400 meters including approach roads, began construction last February for completion within 34 months, but contractors will manage to cut the construction process by three months.
According to the Phu My company, once Phu My Bridge is completed, it will solve the traffic problem for people on the two sides of the Sai Gon River such as districts 4, 7, 2, 9, Nha Be and Binh Chanh districts, and help link up other major routes such as HCMC-Trung Luong and HCMC-Long Thanh-Dau Giay expressways.
The total cost of the bridge is over VND2.07 trillion (US$125 million). To make it easier for the investors, the city has agreed to provide guarantees for the developer to take out loans of VND1.4 trillion (US$85 million) from foreign organizations, plus some VND490 billion (US$30 million) generated from domestic partners.