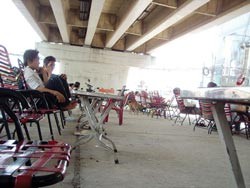 A makeshift coffee shop under the Kenh Te Bridge. (Photo:SGGP)

Ho Chi Minh City's landscape has been marred, with some citizens appropriating spaces under bridges, such as Kenh Te, Tan Thuan 2, Chanh Hung, Nguyen Tri Phuong bridges.
At least three households under Kenh Te Bridge run makeshift coffee shops.
Motorbike taxi and taxi-cab drivers usually gather to gamble while they wait for passengers. Rag pickers also muster here to sort their rags.
Some nearby families use it as a place to store construction materials for when they need to renovate or build houses.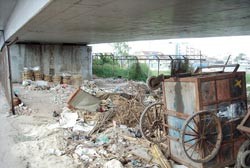 The space under Nguyen Tri Phuong Bridge in District 8 becomes a place to dump garbage . (Photo:SGGP)
"The slipshod landscape catches my eyes during the day. At night, the noise made by people gathering here for drinking annoys my ears. This situation has been going on for a long time but the local authority hasn't done anything," Lam Van Be, a local, groans.
The space under Chanh Hung Bridge in Ward 5, District 8, has become home for more than ten beggars. The place smells terribly and is filthy.
Under Chanh Hung Bridge in Ward 9, District 8, people dump garbage, hang out their washing and sell food and drink. Nguyen Tri Phuong Bridge in Ward 9, District 8 shares similar problems.
Reports suggest that the city People's Committee has granted the Bridge and Ferry Construction Management Co. to turn the spaces into parking lots. This can be seen under Ong Lanh Bridge, District 4, and Nguyen Tri Phuong Bridge, District 5.
Using spaces under the bridges as parking lots is an ideal solution for the shortage of parking lots in the city but it is a waste when the spaces are abandoned or turned into unsociable dens at locals' expense.