Two Ho Chi Minh City dwellers have started preparing for their England visits to watch Manchester United Football Club play in person after winning free trips Thursday morning in a Budweiser beer promotion drawing.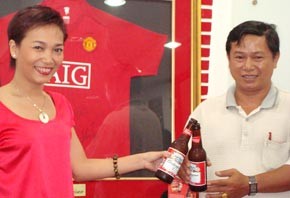 Budweiser's Vietnam sales manager Tran Ngoc Trang (L) toasts with drawing winner Huynh Quoc Mong Hai in HCMC Thursday
Mr. Huynh Quoc Mong Hai and Ms. Nguyen Thi Kim My were randomly chosen from thousands of Budweiser consumers who in recent weeks visited promotional outlets in the city and entered the game to win one of four free trips to Old Trafford Stadium of Manchester United. The other two winners will be named in another drawing on December 17.
The prize includes all transportation costs counting roundtrip airfare, four nights at a premium hotel in Manchester, a personal tour of Old Trafford and a seat at the April 25, 2009 match between Manchester United and Premier League club Tottenham Hotspur.
The Manchester United promotion is one of the two ones Budweiser is currently running in Ho Chi Minh City. Two weeks ago, Ms. Nguyen Thi Truc Linh's name was drawn from hundreds who had entered the other at Metro supermarkets to win a Piaggio Fly Scooter.
Last month, Budweiser announced it had renewed its partnership with world-famous Manchester United. Specific terms of the agreement were not disclosed.