Bilco Company has put forward an idea to build cable car routes from Hoang Van Thu and Gia Dinh parks to Tan Son Nhat International Airport to reduce severe traffic jam in roads to the airport, Bilco director Vu Huy Thang said on January 13.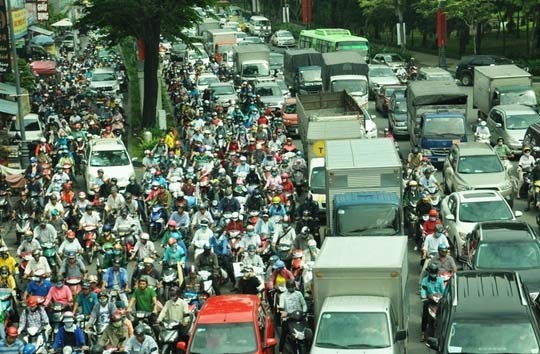 Traffic jam regularly occurs in Truong Son-Tran Quoc Hoan road (Photo: SGGP)
According to Mr. Thang, the cable car route from Hoang Van Thu Park to the airport will cost about VND500 billion ($22.1 million), accounting for only one tenth of the expenditure of VND5.5 trillion ($250 million) on a metro line in the same route.
 
The cable car project will be built within ten months while the metro line will take years worsening the ongoing traffic congestion.
 
Cable cars' capacity is expected to reach 3,000 passengers per trip per hour and 4,000-4,500 with advanced technologies. They will travel at the speed of 25 kilometers an hour ensuring safety.
A ticket price will be VND5,000-10,000. Pillars of the cable car route will be built on the divider in Truong Son street.
 
Bilco Company said that Tan Son Nhat management board could establish a check-in post right at Hoang Van Thu Park to ease pressure for the airport.
Director of the Department of Transport Bui Xuan Cuong said that the agency welcomed ideas and solutions from investors, businesses and citizens to solve traffic jam for the area surrounding Tan Son Nhat Aiport.

The department had yet to affirm the feasibility of the ideas because they need more comprehensive study in technical, financial factors, urban planning and operation organization, he said.

However, it will coordinate with investors supplying them with documents so that they can study following steps more carefully to materialize their ideas, he added.