Tet Lunar New Year 2012 is coming earlier than usual this year, and wholesalers have been busy stocking commodities to meet consumer demand during the country's biggest holiday.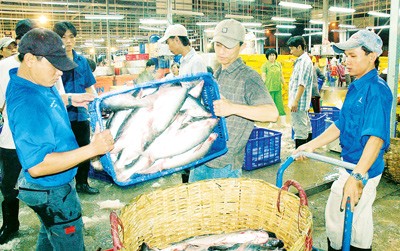 Aqua products flood Binh Dien Wholesale Market. (Photo: Sggp)
Wholesale markets such as Tan Xuan, Thu Duc and Binh Dien are bustling with activity, much more than normal days, with wholesalers selling goods from 10 pm until the early hours of the morning.
Traders said that the volume of various commodities has been stable in recent days. Binh Dien
Wholesale Market in District 8 has seen around 821 tons of fresh aqua products, 5 tons of dried aqua products and 1,000 tons of vegetables come in per day.
Thu Duc Agriculture Wholesale Market has received an increase of an additional 50-100 tons of various kinds of vegetables per day. Some aqua products have been an increase from VND5,000-VND15,000 per kg.
According to Nguyen Thanh Ha, Deputy Director of the Thu Duc Agriculture Wholesale Market, the good weather has brought in a good harvest and an abundance of agricultural products.
Markets often are busier within 7-10 days before Tet. Most of the vegetables come from Da Lat and the Mekong Delta provinces.
Chinese vegetables have accounted for 9-10 percent of the total quantity of vegetables in the market, added To Van Liem, director of Tan Xuan Wholesale Market in Hoc Mon District.
The volume of commodities will be up by 80-100 percent on Tet compared to normal days. The highest increase will be seen in vegetables, meat, poultry and fruits, according to the HCMC Department of Industry and Trade.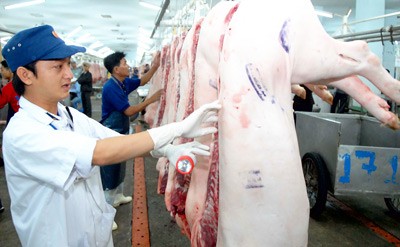 Abundance of pork in Thu Duc Agriculture Wholesale Market. (Photo: Sggp)
Meanwhile export of Vietnamese specialty dishes for Tet has also increased.
Hai Minh Trade and Production Company in Cu Chi District is running full capacity to complete contracts and finish year-end targets. The company will export more than 800 Vietnamese goods to the US, China, Laos, Australia and New Zealand where a huge Vietnamese community is living and working.
Tran Gia business in Dong Nai Province has just sent 20 tons of Vietnamese traditional cakes such as Banh Chung (square glutinous rice cake), Banh Day (round glutinous rice cake) and Banh Gai (Leaf sticky rice) to European countries.
The City supermarkets including Big C, Maxi Mart have also launched many promotional programs to attract buyers.