An eight-month long program launched by the Politburo encouraging Vietnamese people to consume locally made products is showing positive signs.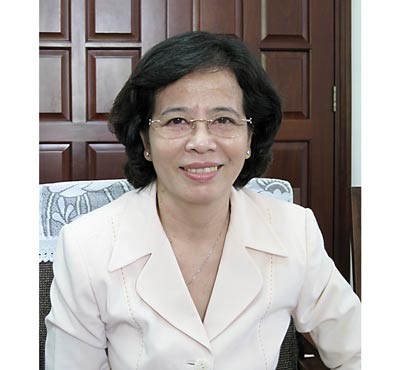 Huynh Thi Nhan, steering chief of the program, said the campaign aims to prop up the country economy (Photo: SGGP)
Huynh Thi Nhan, deputy secretary of the Ho Chi Minh City Party Committee and steering chief of the program, spoke with Sai Gon Giai Phong about the campaign aimed at boosting the local economy.
According to Ms. Nhan, the project has given firms an incentive to improve the competitiveness of their goods and services, protect consumers' interests, and build national brands for Vietnamese goods.
Customers have responded, showing a new preference for domestically made commodities over foreign ones.
By purchasing quality local products, Vietnamese people are demonstrating patriotic respect for their nation, Ms. Nhan added.
The program also targets creating favorable conditions so that domestic businesses can expand and win a larger market share both at home and abroad. In this way, it is hoped the country can combat negative effects of the economic downturn and secure ¬social welfare.
In addition, local enterprises are now investing more in production technology, with a view to long-term, sustainable success.
The campaign encourages everyone to participate, including the media, which has greatly contributed to the success of the program. The Vietnamese Goods Ambassadors, meanwhile, comprise famous actors and popular singers who appeal to the public to buy locally made products.
To support the campaign, organizers say customers should refuse to buy fake goods or items with unclear origins and immediately notify authorities about businesses selling low-quality products.
In addition, agencies must create fair competition policies and impose strict penalties on unethical firms.
Finally, Ms. Nhan said buying Vietnamese-made items ensures jobs for local workers.