Governor of California Edmund Jerry Brown received Politburo member, Ho Chi Minh City Party Committee Secretary Le Thanh Hai in Oakland city early Tuesday (local time) or late at night the same day (Hanoi time) during Mr. Hai visit to the U.S.
California Governor Edmund Jerry Brown receives Politburo member, HCMC Party Committee Secretary Le Thanh Hai (Photo: SGGP)
Mr. Brown, the first California governor having received a Vietnamese delegation, appreciated highly the delegation's visit to the state, where forty percent of Vietnamese nationals in the U.S. are resettling.
There were a lot of conflicts in the world however, from being former enemies, Viet Nam and the US had become friends and today the leaders of HCMC and California met and discussed about their common concerns then, he said. 
Mr. Brown expressed his hope to have a wide and deep cooperation with HCMC on the foundation of increasingly good relations between Vietnam and the U.S.
 
He also talked about concerns on environmental protection, climate change and greenhouse gas emissions.
Secretary Le Thanh Hai appreciated cooperation relations between HCMC and California especially in trade and investment, science and technology, and education and training.
He concurred with Mr. Brown to cooperate in environmental protection, build climate change adaptation scenarios and limit its negative impacts, and mobilize the community to join hand with the Government in this issue.
First brick placed for HCMC-Sacramento collaboration
Early Wednesday (Hanoi time), deputy mayor of Sacramento city Allen Warren met HCMC People's Committee Deputy Chairman Tat Thanh Cang, member of the city delegation in the visit to the U.S.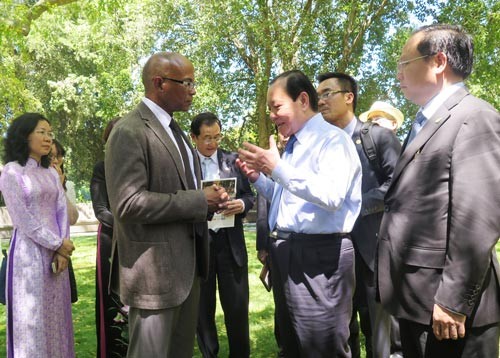 Mr. Hai talks to Deputy Mayor of Sacramento city Allen Warren (Photo: SGGP)
They debated common concerns such as trade and investment promotion and education exchange.
Mr. Cang said that the meeting placed 'the first brick' for HCMC-Sacramento cooperation relations.

Mr. Warren thanked HCMC for the warm welcome he received while visiting the city in February. The visit has changed his imagines about Vietnam.
Some oversea Vietnamese in California has still kept their preconceptions about Vietnam. He hoped to convey right messages on the good development of Vietnam to them, said Mr. Warren.
HCMC Department of External Relations Director Nguyen Vu Tu and Sacramento city representative Ms. Starr Hurley signed a Memorandum of Understanding (MoU) on the development of friendly cooperation relations between the two cities in the upcoming time.
Secretary Le Thanh Hai and his delegation visited the University of California in Davis on the same day.
Representatives from HCMC National University and the California University talked about the possibility of building cooperation programs in the future.
Mr. Hai stressed four priority fields for the two universities to cooperate comprising sustainable urban development planning; environmental protection, waste treatment and climate change; agricultural development; and exchange of lecturers and students including short-term training courses.
HCMC calls on U.S. investors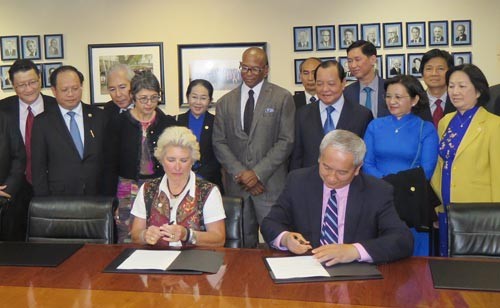 Mr. Hai and Mr. Warren witnessed the MoU signing ceremony (Photo: SGGP)
On the same day afternoon, Mr. Hai met with the community of oversea Vietnamese businesses in San Jose, the third largest city of California.
He hoped that more businesses from the city and the U.S. will set up and do business in HCMC.
Mr. Hai affirmed that HCMC always led the way in solving difficulties for oversea Vietnamese businesses to invest in Vietnam. Besides implementing preferential policies by the central Government, the city would provide them with special incentives and accompany them for common development.
California is the largest trading partner of Vietnam in the U.S. with bilateral trade turnover topping US$10 billion a year. Nearly 100 groups and businesses from the state have invested in Vietnam.
7,000 out of 17,000 Vietnamese students studying in the U.S. are in California. Half of Vietnamese Americans, about 880,000, are living in the state.

Related articles:
HCMC, San Francisco continue multi-field cooperation
HCMC Party Secretary visits oversea Vietnamese in U.S.