Traffic congestion in the east gateway of Ho Chi Minh City has recently become the focus of attention, as it has caused much annoyance and inconvenience to road-users.  A series of temporary solutions were provided and initially brought about good effects, however, they are not enough to end traffic congestion in the area.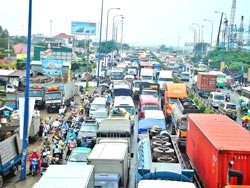 Container trucks queue up on Highway 25B en route to Cat Lai Port in HCMC's District 2. The traffic congestion deals a heavy blow to the normal operation of the port. (Photo: SGGP)
The Hanoi Highway, 25B Interprovincial Highway and other roads to Cat Lai Port are the main arteries used to transport cargo to and from Cat Lai Port, Cat Lai Industrial Zone. As such, traffic congestion is always heaviest there and often blocked by queues of container trucks.
There are many reasons cited for the congestion, such as investment and building infrastructure being too slow, transporting of goods through the port has increased and poor driving skills by road-users.
The city's communications and transport sector has given some solutions to reduce traffic congestion, such as widen access at some crossroads, curtailing road works, setting up more road signs and increase the number of traffic police to control traffic at rush hour.
Initial results suggest the ideas have helped reduce congestion. However, the solutions are only short-term and are carried out in an unsystematic way.
Over the next few years, when some ports are relocated to the outlying district of Nha Be, Highway 25B will become even more overloaded. Therefore, it is urgent to upgrade and expand the inter-provincial road and build new roads to Nha Be.
The government needs to speed up work on developing infrastructure, as well as projects to expand Road 25B and the Hanoi Highway, both of which lie on major routes from HCM City to Cat Lai, where the busiest ports in Vietnam are located.