British Prime Minister David Cameron yesterday praised the Vietnamese Government's efforts in promoting national competitiveness and creating a fair playground for the business community, and its efforts to meet all international standards.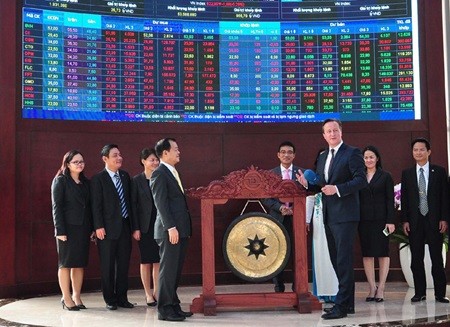 British Prime Minister David Cameron (right) pays a visit to the HCM City's Stock Exchange yesterday. (Photo: VNA/VNS)
Cameron said he was impressed with the country's recent economic growth, and hunger and poverty-eradication achievements.
"The UK would like to promote business and expand investment and trade with Viet Nam, with the goal of doubling bilateral trade in the coming time," he said.
He said that discussions about transparency and integrity were crucial for investment success, saying they were the most important factor for small- and medium-sized enterprises.
HCM City's Party Committee Secretary Le Thanh Hai said he wished to develop a strategic partnership between Viet Nam and the UK in politics, foreign affairs, trade and investment, education and vocational training, and cultural exchange during a speech welcoming the British PM in HCM City.
Hai thanked the UK for its support to HCM City in previous years and said it welcomed assistance in Public-Private-Partnerships (PPP) as well as new investment, especially in finance and infrastructure, from British enterprises.
During the ceremony, British PM Cameron spoke about his positive impressions of the Vietnamese people and culture as well as economic and social achievements in Viet Nam in general and HCM City in particular.
The British PM said the UK was ready to share experiences in infrastructure, finance, urban master planning, PPP model development, education and vocational training.
He then took part in a conference themed Increasing Enterprises' Competitive Ability – Transparency as Business Activity Focus, organised by the Viet Nam Chamber of Commerce and Industry and the British Embassy in Viet Nam.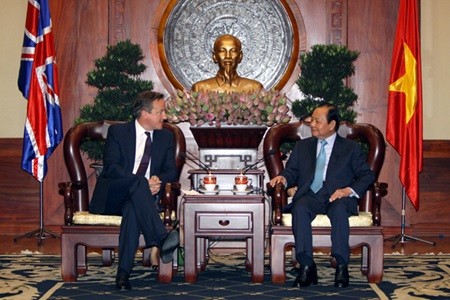 HCM City's Party Committee Secretary Le Thanh Hai receives — British Prime Minister David Cameron yesterday in HCM City. (Photo: VNA/VNS)
"Viet Nam has widely and deeply integrated with the international economy, and achieved remarkable results in economic and social development," Deputy Prime Minister Nguyen Xuan Phuc said at the conference.
"International integration has not only opened huge opportunities for Vietnamese commodities and services, but also created challenges and competitive pressure for domestic enterprises," he added.
In the context of global recession, Viet Nam continued to grow economically, but corruption, bribery, and lack of transparency and integrity threatened such achievements, he said.
"The Vietnamese Government has tried to create an open and transparent business environment for enterprise development," Phuc said.
The Government had listened to enterprises, both local and international, in an aim to promote reform and fight against corruption and bribery, he added.
Cameron said that corruption and lack of transparency also occurred in other countries, but at varying levels of intensity.
He said that British investors chose countries with a a high level of transparency and integrity to protect their investments.
Corruption and bribery ultimately added costs to investments and created a loss of belief in investors, he said.
The conference attracted representatives of Vietnamese and British enterprises and organisations, and the representative of the World Bank in Viet Nam.
Cameron also met with British and Vietnamese investors at the HCM City Stock Exchange yesterday morning. He concluded his visit to Viet Nam yesterday.