The record rainfall in Hanoi in the last few days not only inundated the capital but has also raised concern among HCM City residents about what would happen to their city in case of a similar deluge.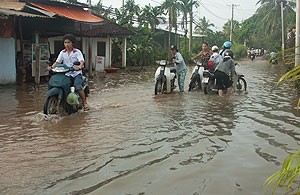 High-tide submerges a street in Thanh Loc Ward of District 12 (Photo: Nguoi Lao Dong)
Scientists say they have good reason to worry about it since global weather has worsened every year due to warming. Following are some of their predictions about the inundation and drainage in HCMC if it receives so much rain.

Nguyen Xuan Lan, deputy manager, Forecast Department, the Southern Regional Hydro-meteorological Center:

The precipitation Hanoi received was between 500mm and 800mm. There have been heavy rains in HCMC that caused severe flooding and frustrating traffic jams but none has exceeded 200mm.

The city will be under deep water if it gets more than 200mm of rain. And rain like the recent one in Hanoi will send the city even deeper under water.

Dr. Nguyen Sinh Huy of the HCMC Geography and Environment Institute:

HCMC is located near the sea and consists of many low-lying areas with a network of canals and rivers. As a result, it will suffer much more inundation if such heavy rain falls here.

HCMC, on the other hand, has a better drainage system than Hanoi, which will help discharge the floodwaters into the canals and rivers more effectively and rapidly.

The city now has 200 storm sewer pipes of more than 1.5 meters diameter built under the average level of river high tide that drain water into the Saigon River and  Tau Hu, Ben Nghe, Tan Hoa, Lo Gom canals. These storm sewer pipes need to be ungraded.
HCMC Makes Plans to Cope with Floods
To cope with inundation caused by severe rains that could occur in Ho Chi Minh City in future, Nguyen Phuoc Thao, director of the city's Inundation Control Program, said his agency would issue warnings and rework the technical parameters for the city's drainage system.

Since the weather bureau never issues warnings about heavy rain, he said the program would work with the Steering Committee for Flood Control and Prevention to draft regulations for issuing such warnings.

The program would develop information channels to warn people, especially those living in low-lying areas, of heavy and incessant rains in a timely manner, he said.

It would also set up rescue teams and inform people how to call reach them quickly, he said.

Mr. Thao said the city has a drainage system that is only 6,000 kilometers long and can meet only a quarter of the need.

The average level of river high tides is now 1.49 meters, while the technical parameters of the sewer system's design approved in 2007 were calculated based on an average level of 1.32 meters.

He said his agency would invite international experts to rework the technical parameters to upgrade the existing drainage system or build a new one.