On Feb 21, in Hanoi, the National Guard Command under the Ministry of Public Security held a ceremony to commemorate the 60th anniversary of the establishment of People's Guard police force and receiving Ho Chi Minh Order.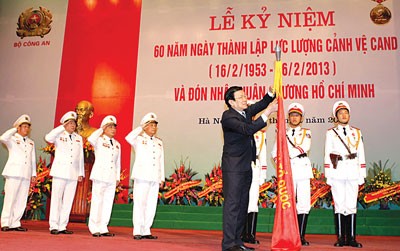 President Truong Tan Sang attached the Ho Chi Minh Order to traditional Flag of the People's Public Security Guard Force. (Photo: SGGP)
Attending the ceremony were State President Truong Tan Sang, Minister of Public Security General Tran Dai Quang and Deputy Prime Minister Vu Van Ninh.
60 years ago on February 16, 1953, President Ho Chi Minh signed Decree No 141 to establish the Guard Department, precursor of the National Guard Force today.
72 years ago, on Jan 28, 1941, when the Leader Nguyen Ai Quoc returned from foreign country to directly guided Vietnamese revolution, the Communist Party organized a group of soldiers to protect him. This squad then developed into a guard unit to protect leader Nguyen Ai Quoc and other key leaders of the Central Government.
Addressing the award ceremony, President Truong Tan Sang praised the great achievements that the force has made over the years.
He asked the force to do its utmost to fulfill their tasks in the context of increasingly complicated and unforeseeable developments in the region and the world.
The guard force has achieved numerous honorable accolades, including the title of "People's Armed Force Hero in the Renewal Period" and the Golden Star Order, among others.