Ho Chi Minh city is reviewing the projects by 2020, with a vision towards 2025 which have been under construction, approved by the Prime Minister for 5 years ago. According to Ho Chi Minh City Department of Planning and Architecture, there are still debates about development directions of the City. However, the development in the East of the City is highly well-appreciated.
 
District 2, 9 and Thu Duc are located in the East of Ho Chi Minh city. 20 years ago, people could be fear of riding motors as there was too desolate. At this moment, there are many means of transportation whenever daytime or nighttime. Even ones have to consider passing by this area during rush hour. It is not only bustling in the Hanoi Highway but also in the whole area of the East of Ho Chi Minh city.  This area is the main development path so it is strongly focused on investment such as: widening the Hanoi Highway, building Rach Chiec Bridge, Sai Gon 2 Bridge and others. Especially the city's Metro is the network's first line connecting Ben Thanh Market and Suoi Tien Park in district 9 which is under construction and expected to put into use in 2017. With such an estimated result, the new residential areas have been forming like Thao Dien, Khang Thong and so on.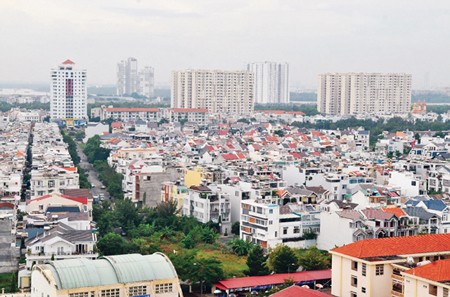 Chain of modern urban area in East of HCMC grows.
Vice director of Ho Chi Minh City Department of Planning and Architecture Nguyen Thanh Toan, who is in charge of directing the coordination team of planning the urban in the East of the city, stressed that although there were lots of investments, the area still remained the drawbacks. Some new urban areas do not have synchronous connectivity infrastructure with the neighboring ones. Besides that, some areas still do not have improvements in technical infrastructure and social infrastructure; schools, markets, hospitals are still not equipped enough to meet people's living standards. The empty houses will cause a waste the land resources and reduce the appeal of urban areas.
 
Mr. Toan confirmed that there would be a big change in the year of 2016. This change is as a solution for the inadequacies. First of all, leaders of the these districts should review the projects being under construction to pose plans of overcoming the  inadequacies and especially outline the path of housing development synchronizing with the economics, society and housing demands. He also informed that relocating the Ha Tien 1 Cement Factory and dry port zone of Truong Tho Ward (Thu Duc district) was on plan to carry out in 2016.

After two new modern urban areas including district 2 and 9 have been synchronized with the metro route Ben Thanh- Suoi Tien, technical infrastructures and background of relocating places and new urban areas which are not covered by pollution and traffic jam will be set up in the upcoming times.