Chairman of the Ho Chi Minh City People's Committee Le Hoang Quan urged investors and construction companies on November 18 to repair 100 work sites that have caused flooding in the city.
He also asked construction companies to check road works that may cause flooding in the future.
The Management Committee of the East-West Avenue project and the city Environmental Sanitation Project (Nhieu Loc-Thi Nghe basin) urged contractors to speed up work on the A package deal including dredging the Tau Hu-Ben Nghe Canal, and the No.10 package deal which involves dredging the Nhieu Loc-Thi Nghe Canal to create outward water flow when it rains.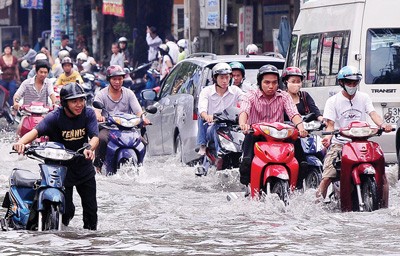 Motorists struggle through severe flooding in Ho Chi Minh City. (Photo: SGGP)
Inspectors from the city departments of Transport and Construction have been instructed to monitor and penalize contractors if they damage the city's drainage system.
The committee also asked construction companies to unclog sewers along the Tau Hu-Ben Nghe Canal to prevent severe flooding before November 20.
According to the latest report from the city's Flood Control Center, progress on the city's many flood prevention and drainage upgrade projects has been slow.
One sanitation and environment project along Nhieu Loc-Thi Nghe Canal has a total of 10 bidding packages to construct a drainage system. However, as of late 2008, one package was only 59 percent complete and the other nine were only 16-46 percent complete.
Another example is a project for water and environmental improvement in the Ben Nghe-Tau Hu-Doi-Te Canal Basin. Two packages, a water pumping station and a wastewater treatment facility are 99 percent complete, but three remaining packages related to drainage construction are only 37-59 percent complete.
Investors will bear responsibility if they do not repair 100 work sites in a timely manner, Mr. Quan said.