Severe gridlock clogged the streets on both sides of Ho Chi Minh City's Binh Trieu 1 bridge June 14 as motorists were apparently unaware the bridge had been closed for construction until the 29th.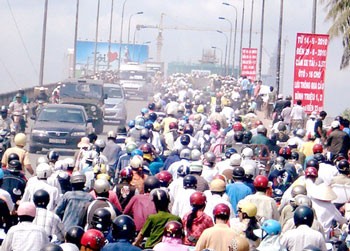 Traffic jam on Binh Trieu Bridge 2 (Photo: Sggp)
HCMC Traffic Police were dispatched to the bridge, which links Binh Thanh District to Thu Duc District, to clear the 3-4 km long queue of thousands of vehicles. But eyewitness reports said the traffic was out of control and chaotic.
Vehicles wanting to cross from Binh Thanh to Thu Duc must use detours on Xo Viet Nghe Tinh, National Highway 13, and Binh Trieu Bridge 2 until Binh Trieu 2 opens again, the HCMC Department of Traffic and Transport said.
Two-way traffic on Binh Trieu Bridge 2, which is normally one-way, is open from 5am to 11pm, though vehicles of 16-seats or more are banned from driving on it, as are trucks of 3.5 tons and above. However, buses are exempt from the ban.