Representatives of Sai Gon Giai Phong newspaper and benefactors of the charity music show Dong Thoi Gian ("Course of Time") on June 20 gave five newly-built houses to disadvantaged residents in Thanh Xuan ward in District 12 in honor of Viet Nam Revolutionary Press Day.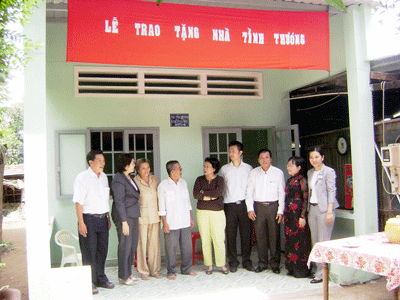 The newspaper's representative and benefactors at the giving ceremony offer the new house to Mr. Nguyen Van Cung
The first man to receive a house, Mr. Nguyen Van Thang, 43, whose two children are good students, suffers from a critical illness and ekes out a living by breeding dairy cows. The new house offers his children a better place to learn.
Mr. Nguyen Van Cung, 61, was very excited about the new house because he and his relatives will not have to live with a goat under the same roof any more. The charity also assisted Mr. Nguyen Van Kha, 72, a motorbike taxi driver, and Mr. Dinh Thi Tinh, 85.
Upon hearing that the newspaper plans to construct new houses for underprivileged families, the neighbors volunteered to contribute tens of millions of dong to help build them.
To fill the house with furniture, Mr. Nguyen Thi To, SGGP's deputy editor in chief, Mr. Vu Kim Cuc, deputy director of the Sai Gon Commercial Bank, and Mr. Hoang Nhat, a representative of Bitexco Company offered rice, cooking oil, salt, sugar, a set of cups, and pots. Local authorities also provided electric fans and some other presents.