Medium-priced apartments are becoming increasingly popular in Ho Chi Minh City.
Le Hoang Chau, chairman of the HCMC Real Estate Association, said apartments have generally become cheaper, allowing investors to earn small profits but sell them quickly to rotate their funds and avoid risks.

Though the market has recently been affected by the capital-gains tax and credit policies, apartments costing VND1.5 billion and less are popular because their buyers are those who need accommodation rather than investors or speculators.

Nam Long ADC is building E-Home East Saigon 2 in District 9 with 604 apartments for middle-income buyers. Apartments measure 45-112 square meters and cost VND11.8 million per square meter.
The project follows the company's success in selling all 312 E-Home East Saigon 1 apartments within a month in last year.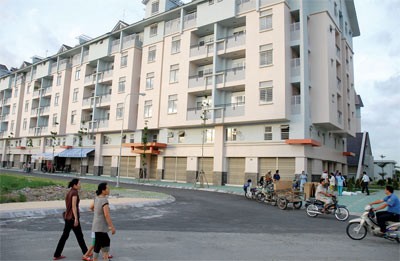 The medium-priced E-Home East Saigon 1 apartments in HCMC's District 9 (Photo: SGGP)
Le Thanh Real Estate Company sold all 134 apartments in Binh Tan District quickly last year at VND6.5 million per square meter and began another project to build 400 apartments at VND10.5-11.8 million, selling them out within a few weeks.

Most of these medium-priced apartments are located far from the city center -- in District 9, Binh Tan, and Tan Phu Districts, for instance.

But some are closer to downtown -- like Him Lam Riverside in District 7 which costs US$1,800 (VND32.4 million) per square meter and Giai Viet in District 8, which costs VND18 million.

The pioneer in lowering apartment prices is Hoang Anh Gia Lai Company. When the market was at its peak, the company sold its apartments at US$2,350 per square meter before reducing it to US$1,000, even for apartments in good locations like District 2 and 8, and next to Phu My Hung.

Doan Nguyen Duc, chairman of the company's board of directors, said: "We will launch 2,000 apartments a year at reasonable prices."