The Ho Chi Minh City Transport Cooperative Union announced it has imported eight more buses to add to its existing fleets from South Korea at a cost of VND15 billion (US$7,500), which will run on Compressed Natural Gas (CNG).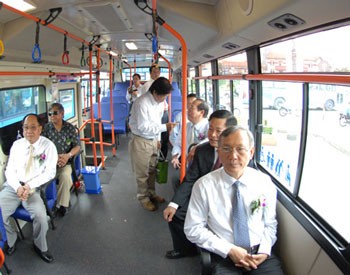 Tran Quang Phuong (R), director of the Department of Traffic and Transport, and city's leaders ride the first CNG bus in HCMC in 2011 (Photo: SGGP)
Two of these buses will be wholly for disabled people. The advantages on these two buses are that they have several automatic features, such as when the bus arrives at a bus-stop it will automatically adjust the floorboard to level with the kerb and elevate the disabled person to board the bus.
These new eight buses will ply between An Suong Bus Stop in Hoc Mon District and the University of Nong Lam (Agriculture). They will replace the old buses that are running on diesel fuel.
Phung Dang Hai, director-general of HCMC Transport Cooperative Union, said his company will gradually replace all diesel buses with CNG buses as CNG is considered a clean fuel and comprises of compressed methane and ethane. The fuel has a high octane rating, which means it is compressed and not highly inflammable.
Moreover, CNG powered buses reduce pollution and save at least 30 percent operational costs as compared to petrol powered buses. For instance, while it costs VND500,000 for 100 kilometers on diesel buses, it only costs VND340,000 on CNG buses.
However, Hai stressed that it needs the support of the government to replace all old diesel run buses.
Saigon Passenger Transport Company (Saigon Bus), a State-owned company, has been operating 21 CNG buses since last August. Earlier, there were only two CNG buses operating from Le Hong Phong Street to Vietnam National University in HCMC (VNU-HCMC) and from the Bus Stop in District 6 to the dormitory of VNU-HCMC.