Health watchdogs and the People's Council of Ho Chi Minh City on April 18 discussed all possible disease prevention and control measures to contain hand-foot-mouth and the dreaded Avian Flu virus.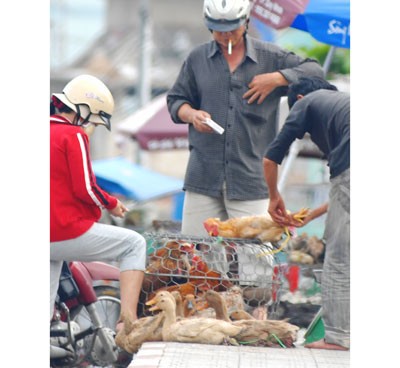 An illegal poultry shop in Cau Bridge in District 12 (PHoto : SGGP)
The City is facing a high risk of the new Avian Flu virus from spreading as an increasing number of illegal poultry shops are operating in suburban districts as well as plenty of mobile shops selling directly to residents.

Among the 300 bird breeding houses, only 10 houses in Can Gio District are legally registered; and taking samples for testing is proving to be a challenge as breeders avoid meeting with medical teams.

The Department of Animal Health said that hundreds of smuggled poultry and cattle have come in last week. Vets in Binh Chanh District seized more than 1,000 chicken and water fowl on April 17 and 18, with the driver unable to present any legal documents.

In related news, Tien Giang Province in the Mekong Delta said an outbreak of Avian Flu was detected in a farm in Cai Be District, killing 740 poultry. One month back, an outbreak of Avian Flu occurred destroying a 276- strong flock in Chau Thanh District of Tien Giang Province causing concerns of re-occurrence of the disease in the Mekong Delta.

Meanwhile Le Thanh Liem, director of the Department of Health in Long An Province in the Mekong Delta affirmed a 21-year-old man in Tan Hung District had contracted the H5N1 virus. He was transferred from the General Hospital in the province to Cho Ray Hospital in HCMC after two-days, when the disease showed no signs of abating.


Cho Ray Hospital confirmed the man was positive for the virus, but his condition has improved now.



Vu Van Tam, Deputy Minister of Agriculture and Rural Development on April 18 sent an urgent dispatch to localities on prevention of Avian Flu in swallows.

As per the dispatch, the ministry asked municipal and provincial people's committees to prepare to fight the new strain of Avian Flu.

When health watchdogs detect bird flu outbreaks in salangane flocks, they should destroy them and disinfect the environment.

Health workers must take samples of the birds periodically and at unscheduled times. Breeding companies must have heat methods to eliminate disease germs.