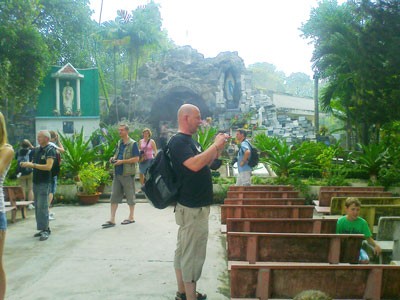 Foreign tourists in front of a church in District 5 in Ho Chi Minh City (Photo: Anh Quan)
The Communist Youth Union in Ho Chi Minh City introduced a new plan on June 8 at 23/9 Park in District 1, to train young volunteers who will in future assist foreign tourists with key and relevant information on the City.
The teams will include young people who have good command of foreign language skills and be able to help and guide tourists within the City, especially in District 1 where most of the foreign holidaymakers converge.
The volunteers will be mainly based in three locations such as the T-Junction of Pham Ngu Lao-De Tham Streets, the crossroad of De Tham-Bui Vien Streets, and in front of the Army Command Station in Pham Ngu Lao Ward on De Tham Street in District 1.