Ho Chi Minh City has been luring investments for development of infrastructure, such as the traffic sector, for the last ten consecutive years but in turn has been most unprofessional in its approach towards investors, said Nguyen Van Thanh, a Fulbright economic scholar from the HCMC University of Economics.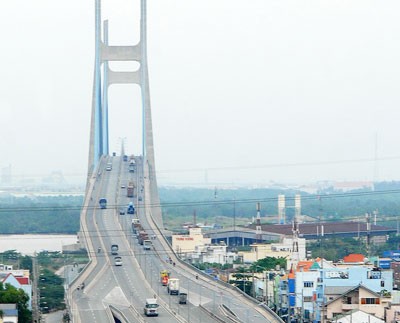 Phu My Bridge was built by a private company (Photo: SGGP)
Thanh noted that the City reverts to professional experts to issue policies for infrastructure projects and to study documents submitted by investors. However, when it comes to regular dealings, many of the City departments adopt a very unprofessional approach in dealing   with investors.
One enterprise that has been involved in construction work of several traffic projects in the City, but does not want name revealed, said that although capital recovery method and time are clearly stated in the project contracts, none of this is implemented in actuality. 
Departments vacillate with excuses and cite a multitude of reasons to delay toll collection payments.
Though some reasons may be valid, untimely delays are not fair on investors who have taken out bank loans that go into hundreds of billions of dong. Postponement of toll collection payment causes serious difficulties for businesses.
 
Thanh said that most investors receive guarantees from State companies and only such enterprises can maintain a flexibility to operate in the above bureaucratic way of functioning by departments.
He said this is a matter of grave concern as the State has not actually mobilized capital and human resources in society.
As a result, the city should build a mechanism to ensure rights of residents, State and investors also.
For instance, if economic conditions are tight and residents cannot afford to pay fees, the State should have a mechanism to compensate investors. If there are too many toll stations in the same area and authorized organs cannot permit another one to function, they can organize to collect the fee in the entire area and divide the proceeds among investors.
Besides, the people's committee and people's council must work in coordination in supporting investors, and preventing instances in which the people's committee approves a traffic project but the people's council refuses to clear toll collection payment.
Thanh was of the view that the City must remain committed to terms signed with investors, even if in the short term the City has to face a loss but in the long term its image and commitment will lure more investors.
For example, in the case of the BOT project to build Binh An Water Plant, the City stayed by its pledge to buy back water produced by the plant right after it came into operation, although the pipe line to receive water was not yet complete.